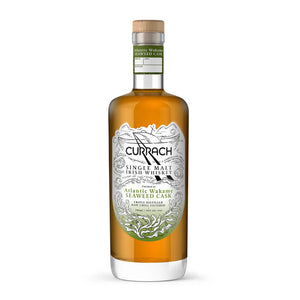 Tasting Notes for Currach Atlantic Wakame Seaweed Cask 
Aroma: An intriguing and enticing nose, as sea salt and rye cracker aromas give way to a golden caramel sweetness, backed by vegetal hints with a touch of iodine.
Taste: Cracked pepper and oak spice, followed by briny yet sweet maritime notes, complemented by a white wine fruitiness, butterscotch, and herbal green tea undertones.
Finish: An elegant sweet and salty finish with a touch of liquorice and plenty of umami and maritime character.
The second core whiskey bottling from Origin Spirits, Currach Single Malt Irish Whiskey – Atlantic Wakame Seaweed Cask is an intriguing whiskey – complex yet subtle, vegetal yet sweet, light yet deep.

Made from 100% Irish malted barley, it is a triple distilled single malt Irish whiskey, initially matured in 1st fill American oak ex-bourbon barrels before being finished in Atlantic Wakame seaweed charred virgin American oak casks. It is non-chill filtered, with no caramel colouring, and is bottled at 46% alc./vol.

Wakame, a green seaweed varietal, is sustainably hand-harvested off the wild Atlantic coast of Co. Clare. It is rare and seasonal, and considered to be the king of seaweeds.

The name 'Currach' comes from a traditional Irish boat made of wicker, animal skins and tar going back to the Neolithic times. It would have been used to gather religious artefacts, transport whiskey to Scotland and today is still used to harvest seaweed in Ireland.

Origin Spirits Ireland Ltd, creators of Kalak Single Malt Vodka and Ornabrak Single Malt Gin, are pioneers in avant-garde single malt spirits. Each product celebrates the best of Ireland's terroir, tradition of distillation and spirit of creativity – This DNA transverses the portfolio. Each product is unique yet shares the same 'Single Malt' backbone. Each transports one on a sensory voyage to the heart of the Irish terroir.

Following the same ethos, Currach Single Malt Irish Whiskey is a true innovation in the whiskey world, and the first to be finished in seaweed charred casks – their first expression created using Irish Atlantic Kombu Kelp Seaweed and their second expression created using Atlantic Wakame Seaweed.

| | |
| --- | --- |
| Producer | An unnamed distillery for Origin Spirits Ireland Ltd |
| Style | Triple Distilled Single Malt Irish Whiskey |
| Age | No Age Statement |
| Volume | 70CL |
| ABV | 46% |