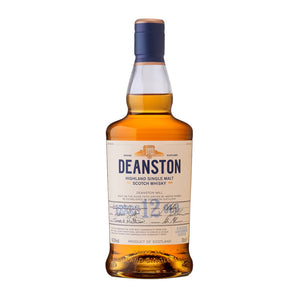 Tasting Notes for Deanston 12 Year Old Single Malt Whisky
Nose: Fresh hays of summer, malty cereal, rich creamy toffee and honeyed heather, balanced with sweet oak and barley sugar.
Taste: Smooth creamy sweetness with sumptuous hints of fruit, malty honeyed spiciness and soft vanilla.
Finish: Crisp and satisfying with a tingle of cloves which linger, then gently fade.
Deanston 12 Year Old is a Highland single malt whisky from Deanston distillery, which has been certified by the Organic Food Association and is entirely powered by electricity from their own watermill - so you can always feel good about yourself while drinking their Scotch. They are the largest distillery owned by Burn Stewart Distillers Ltd, who also own Bunnahabhain and Tobermory distilleries and needless to say, they know how to make a good whisky.

Crafted by hand, this Deanston is matured entierly in ex-bourbon casks from a family run cooperage in Kentucky. Its delicate taste of sweet, honeyed fruit and gentle warmth, with not even a hint of smoke, will bewitch you. It's light, easy drinking, and an absolute delight. Like all Deanston single malts, the 12 year old is non-chill filtered , natural colour and bottled at 46.3% abv.

Deanston 12 Year Old is perfect for someone who is getting their toes wet with Scotch and wants an introduction to its sweeter side.


International Wine & Spirits Competition: Gold Medal - 2020

Singapore World Spirits Competition: Gold Medal - 2019

Deanston distillery is a Single Malt Scotch whisky distillery located in the Highland region on the banks of the River Teith, eight miles from the historic town of Stirling, at the gateway to the dramatic Loch Lomond & Trossachs National Park. It is the largest distillery owned by Scotch whisky producer Burn Stewart Distillers Ltd, who also own Bunnahabhain Distillery on the Isle of Islay and Tobermory distillery on the Isle of Mull.

The Distillery buildings started life in 1785 as a cotton mill designed by Sir Richard Arkwright (who invented the Spinning Jenny), and in its heyday it employed 1,500 people. The mill also housed what was once Europe's largest watermill, harnessing the power of the River Teith. When the old mill was converted to a distillery in 1966, the watermill was hooked up to generators and put to good use, currently supplying enough electricity for the entire distillery operations, offices, shop, and visitor centre - making Deanston the only distillery in Scotland which is self-sufficient in electricity.

Deanston Distillery looks very unlike a traditional Scotch whisky distillery and has a number of unique production features which contribute to its distinct character in taste and look. The spirit is handmade by a small team of local craftsmen who rely on traditional distilling techniques; no technology or computers are used. Deanston uses only Scottish-grown barley and in 2000, was one of the first distilleries in Scotland to start producing organic whisky, certified by the Organic Food Federation and using barley grown in specially selected sites, free from pesticides and chemicals.

The distillery uses an 11-ton open-topped mash tun - the only one of its size in Scotland - and four unique pot stills with upwards sloping lyne arms and boiling balls. These unique stills, along with maturation in the cool, humid conditions of original weaving shed built in the 1830s, and the River Teith's soft waters which are fed from feeder streams flowing through granite and peat beds, help give Deanston the light, nutty, malty and restorative style of whisky which they have become well known for.


| | |
| --- | --- |
| Producer | Deanston Distillery |
| Style | Highland Single Malt Scotch Whisky |
| Age | A minimum of 12 years |
| Volume | 70CL |
| ABV | 46.3% |