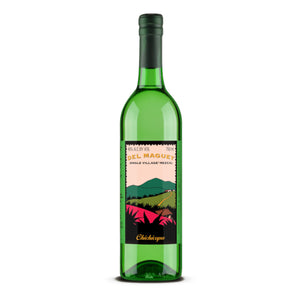 Tasting Notes for Del Maguey Santa Catatrina Minas Arroqueno Mezcal
Aroma: Intense and not shy aroma. Sweet and savory with notes of butterscotch, burnt sugar, fireworks, pine, grilled pineapple and freshly snapped green beans.
Taste: Much of the aroma is mirrored on the palate but with emphasis on: tamarind, butterscotch, smoky bacon, grilled pineapple and sea salt.
Finish:  Long finish etched with smoke, bitter chocolate, citrus and hint of mint.
Overall: Truly a bold spirit. Lush, rich, fatty, sweet, savory and contemplative. All while accomplishing the rare feat of being both filling and refreshing! 
Driving through the villages, in the mountains of Oaxaca, Mexico you'll come across several "palenques" or distilleries each telling a tale. The stories coming out of their stills are of a particular place: the soil, the elevation, the growing seasons, the species of agave as well as the skill and sensibilities of the mezcalero (distiller).

One such village is San Baltazar Chichicapa on the floor of a broad arid valley cradled by low hills, where mezcaleros Faustino Garcia Vasquez and Garcia Chávez create the Del Maguey "Chichicapa". Handed crafted using 100% agave espadín and double distilled in copper pots, the "Chichicapa" is a great addition to the core village series from Del Maguey.

Chichicapa is the classic archetype of a great broad valley mezcal. Sweet smoky earth roast maguey, chipotles, pineapple, grapefruit, fresh tortillas on the nose. On the palate the flavors are extremely well balanced; quince, spicy herb notes, dried fruit, lemon, lime, roast maguey, pear and apple. Chichi ends in a long finish etched with smoke, bitter chocolate, citrus and hint of mint.

Del Maguey (pronounced ma–gay), Single Village Mezcal was founded in 1995 by internationally renowned artist and Mezcal visionary, Ron Cooper. Ron introduced the world to previously unavailable 100% certified organic, artisanal Mezcal produced the original handcrafted way.

Through deep cultural relationships with Zapotec Mexican Indian producers in the remote villages of Oaxaca, Mexico, Del Maguey harnesses ancient, original organic processes. Combining these methods with varying micro-climates and terroir gives each creation its own unique, rich, sweet and smoky character.

Every product in their collection is made by individual family palenqueros (producers) in old-style villages. They are the first producer to credit each product after the village where the liquid is made. When you see their beautiful green bottles you know it's Del Maguey. Most of Del Maguey's mezcals are distilled to proof, so the ABV will vary slightly between batches.

In June of 2017, international spirits company, Pernod Ricard, purchased majority stake in the company. Del Maguey is now part of their portfolio that includes Jameson Whiskey, Absolute Vodka, and Havana Club Rum.

| | |
| --- | --- |
| Producer | Hand-crafted by Faustino Garcia Vasquez and Garcia Chávez in the village of San Baltazar Chichicapa for Del Maguey. |
| Style | 100% Organic espadín agave |
| Volume | 70cl |
| ABV | 48% |