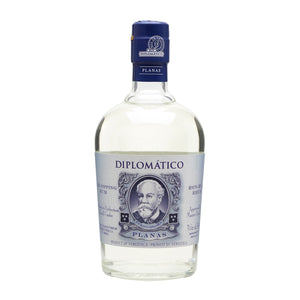 Tasting Notes for Diplomático Planas
Nose: Sweet initially, with marshmallows and barley sugar picking up pleasantly sour citrus notes as the rum sits in the glass. Buttery notes and a hint of mint develop over time.
Taste: The barley sugar from the nose leads on the palate, closely followed by candied citrus zest and sherbert lemons. Rich toffee notes come in behind that, contrasting with peppermint creams and grassy spice.
Finish: Short and sweet, with a burst of fluffy marshmallow quickly fading to soft spice and a hint of clove.
Diplomatico Planas, a fantastic example of what can be achieved by thinking differently, this is not your average white rum.

A rich and flavoursome white rum, with a pleasantly oil texture, well-balanced sweetness and an intriguing herbal note. A good sipper with enough character to make its presence known in cocktails.

Due to Venezuelan law, rum cannot be bottled until it is as least two years old. However, in this case some of the rums are aged up to six years in ex-bourbon barrels. The blend is then charcoal filtered up to six times, removing all colour and creating a very refined, texturally-rich white rum, perfect for serving on the rocks as well as, of course, in your classic Mojitos and Daiquiris.

At its location at the foot of The Andes in the Terepaima National Park, the distillery has been producing top-quality spirits for over 50 years and has achieved cult status with rum connoisseurs across the globe. The distillery was designed for versatility, with three pot stills and four column stills distilling different styles of spirit from top-grade molasses and sugar cane honeys.

The distillery boasts having been awarded the ISO 14001 for sustainability. Destilerias Unidas does all it can to ensure the facility has as little impact on its beautiful environment as possible.

The skill of the master distiller and the craft of the master blender work in perfect harmony to create the Diplomatico range. This includes expressions differing in character, suggested drinking style and price, but all with the underlying hallmark of a rum of the highest calibre.

Overseeing the whole operation is the erudite Tito Cordero who has worked at DUSA since 1988. Tito is one of rum's most celebrated master blenders and his accolades include "Master Blender Of The Year at the 2011 and 2013 Golden Barrel Awards. Tito is currently also president of The Ron de Venezuela DOC Regulatory Council.

| | |
| --- | --- |
| Producer | Diplomatico Distillery |
| Style | White rum |
| Age | No age statement |
| Volume | 70CL |
| ABV | 47% |