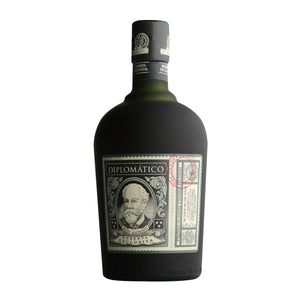 Tasting Notes for Diplomático Reserva Exclusiva
Nose: Big and complex, very characterful. Fruit cake, rum'n'raisin ice cream, cocoa, and some cake spices: dried ginger, cinnamon and clove. Baked bananas with fudge sauce. Highland Cream toffee bars.
Taste: Very chocolatey initially, like a chocolate sauce on dessert. Rich and full, bursting with the sweet toffee, fudge and tropical fruit flavours from the nose. The texture is very generous, rounded by the oak. Real mouth-watering depth of flavour here.
Finish: Flakes of Terry's Dark Chocolate Orange sprinkled over melted vanilla ice cream.
An exquisite sipping rum that is made almost entirely from sugar cane honey. This fine rum is blended from 80% pot still rum and 20% light rums aged for up to 12 years. The end result is a truly exceptional rum showing characteristic fruity and sweet flavours to a level of concentration that is even higher than its family members.

A seductive, sensual and indulgent rum. Deep, vivid and extremely luxurious flavours. Amazingly opulent with a thick texture and layers of rich and sweet fruit and chocolate.

At its location at the foot of The Andes in the Terepaima National Park, the distillery has been producing top-quality spirits for over 50 years and has achieved cult status with rum connoisseurs across the globe. The distillery was designed for versatility, with three pot stills and four column stills distilling different styles of spirit from top-grade molasses and sugar cane honeys.

The distillery boasts having been awarded the ISO 14001 for sustainability. Destilerias Unidas does all it can to ensure the facility has as little impact on its beautiful environment as possible.

The skill of the master distiller and the craft of the master blender work in perfect harmony to create the Diplomatico range. This includes expressions differing in character, suggested drinking style and price, but all with the underlying hallmark of a rum of the highest calibre.

Overseeing the whole operation is the erudite Tito Cordero who has worked at DUSA since 1988. Tito is one of rum's most celebrated master blenders and his accolades include "Master Blender Of The Year at the 2011 and 2013 Golden Barrel Awards. Tito is currently also president of The Ron de Venezuela DOC Regulatory Council.

| | |
| --- | --- |
| Producer | Diplomatico Distillery |
| Style | Dark rum |
| Age | No age statement |
| Volume | 70CL |
| ABV | 40% |