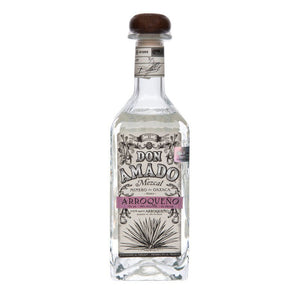 Tasting Notes for Don Amado Arroqueño Mezcal
Aroma: Bright floral aromatics of caramelized maguey, leather and soft smoke lend structure to ripe, cooked yam.
Taste: A supple mouthfeel delivers quince, persimmon, lemon verbena and kaffir, juxtaposed with layered chocolate, espresso and savory spice with balanced minerality and savory roast characteristics.
Finish: Smooth with the smoke and spice dominating.
Rustic and refined, Don Amado Arroqueño is made 100% from Arroqueño maguey (agave) grown at 4,800 feet in the town of San Pablo Apostol, Oaxaca. Arroqueño maguey is an enormous species that requires 18 years to mature, but is cultivatable, so ecologically sustainable while simultaneously wildly exotic and delicious.

After harvesting, the hearts of these premium agaves are roasted in wood-burning earthen pits and the plants' treasured juices are distilled in traditional Oaxacan ceramic-and-bamboo pot stills. This unique distillation method gives Don Amado mezcals their distinctive smoky flavor and herbal bouquet, while proudly honouring a sixteenth-century production tradition native to the state of Oaxaca.

In the highlands of southern Mexico, the renowned Arellanes family has been crafting one of the region's most celebrated mezcals since the late 1700s. Eleven generations of continual mezcal distillation with a legendary commitment to craftsmanship and experimentation have culminated in a spirit that is simultaneously complex and approachable. Don Amado is made from earthen roasted maguey hearts which are, after crushing, fermented together with their piña fibers for a rich maguey character. The mash is then double distilled in small traditional ceramic clay pots. Aged varieties are matured in American oak casks previously used for barreling Pedro Domecq brandy.

| | |
| --- | --- |
| Producer | Don Amado Family Distillery |
| Style | 100% Arroqueño Joven Mezcal |
| Volume | 75cl |
| ABV | 46% |