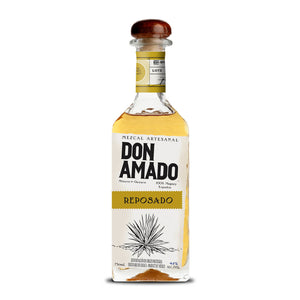 Tasting Notes for Don Amado Reposado Mezcal
Aroma: Notes of fresh lime, green olives, peppercorn, green tea, and minerals.
Taste: Familiar Mexican flavors of roasted corn slathered in butter, hints of vanilla and cinnamon, tropical fruit and dried chilies are balanced with a moderate amount of smoke.
Finish: Satisfying, slightly spicy vanilla-driven extended finish.
Wonderful clay pot distilled Mezcal from Real de Minas Distillery and the Don Amado range. Following popular Oaxacan tradition, this is aged for six months in ex brandy casks, to impart a satisfying oaken influence on the earthy, smoky spirit. With a history of Mezcal production dating back to the 1700s, this is steeped in tradition and tastes glorious!

In the highlands of southern Mexico, the renowned Arellanes family has been crafting one of the region's most celebrated mezcals since the late 1700s. Eleven generations of continual mezcal distillation with a legendary commitment to craftsmanship and experimentation have culminated in a spirit that is simultaneously complex and approachable. Don Amado is made from earthen roasted maguey hearts which are, after crushing, fermented together with their piña fibers for a rich maguey character. The mash is then double distilled in small traditional ceramic clay pots. Aged varieties are matured in American oak casks previously used for barreling Pedro Domecq brandy.

| | |
| --- | --- |
| Producer | Don Amado Rustico is made in Santa Catarina Minas, Oaxaca by mezcalero Germán Bonifacio Arellanes. The same distillery also produces Mina Real Mezcal. |
| Style | 100% Angustofolia Haw Espadín maguey |
| Volume | 75cl |
| ABV | 45% |