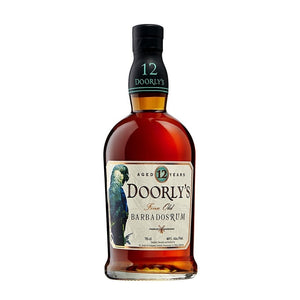 Tasting Notes for Doorly's 12 Year Old Rum
Nose: A very inviting and well balanced nose with familiar notes of vanilla and light toffee/caramel and an extra fruity blast of banana and and rich dried fruits.
Taste: An initial hit of sweetness, brown sugar and a little spicy pepper is overtaken by dry oaked flavour and a nice spiced heat.
Finish: Very smooth and long lasting.  The oak and slight smokiness of the rum remains but you also get notes of vanilla.  A little nutmeg and cinnamon remain in the palate.
Overall: Expertly blended, world class rum which makes a mockery of it's price. 
Brought to us by the wonderful award-winning Foursquare distillery, Doorly's 12 year old rum is a blend of pot and column still rums. The pot still brings complexity, depth and weight to the blend, whilst the column still brings a good balance of aroma and flavour. Doorly's 12 is a blend of rums, 90% aged for 12 years in Kentucky Bourbon and 10% aged for 12 years in Madeira casks. The rums are blended and allowed to marry together for a short period so the rums fully integrate.

Each bottle of Doorly's features a parrot on the front, which we love, and the Macaw on the front of this bottling is actually the Spinx Macaw which is widely accepted (although not officially confirmed as yet) to be extinct in the wild. Nice to see it make an appearance on the bottle and will hopefully raise some awareness about the plight of a pirate's best friend.

International Wine & Spirits Competition: 92 Points

In some spirit categories there are distilleries which just stand out for excellence. Buffalo Trace for bourbons, Middleton for Irish whiskeys, to name but two examples. The equilvalent distillery in the rum world, for us anyway, is the Foursquare Distillery in Barbados. They simply do not make bad rum.

The FourSquare Distillery is owned by R.L Seale & Company, a fourth generation family business started in the 1926 and now run by Sir David Seale and his son Richard. After spending decades perfecting their techniques in blending rum, they finally started producing their own when they took over and refurbished an old abandoned Sugar Factory in 1995. Production started in 1996 and the awards have been flowing in ever since, including the International Spirits Challenge (ISC) Rum Producer of the Year four times, in 2016 through 2019 and the International Wine & Spirits Competition (IWSC) Rum Producer of the Year in 2016, 2018 and 2019.

Distilling operations are overseen by Richard Seale, who has developed a reputation for innovation and embracing new technologies. Surprisingly, despite the distillery being located in the middle of a sugar plantation, they need to import most of their molasses from neighbouring Guyana (the sugar cane factory was separated from the old plantation in the 1950's).

The rums produced at Foursquare are generally a blend of pot and column stills, and rums are blended both before and after aging. As is the norm, aging is usually done in ex-bourbon casks, but they have also use ex-sherry, madeira, port and zinfadel casks in smaller amounts. Casks are filled at 65-68% abv for greater wood extraction, which is rare as most rum producers fill casks above 70% and many approaching 80% abv. Absolutely no additives are ever added to Foursquare rums.

In a time when many producers take average rum and throw in some sugar or other additives to cover up flaws and fool the public into paying a premium (we won't mention names, but will always point out when additives have been introduced), Foursquare have taken a systematic approach to their distillation. Using the most modern equipment and techniques available, together with a strong focus on producing to the highest quality, ensures that the rum speak for itself. No additives required!

| | |
| --- | --- |
| Producer | Foursquare Distillery |
| Style | Rum |
| Age | A minimum of 12 years |
| Volume | 70CL |
| ABV | 43% |