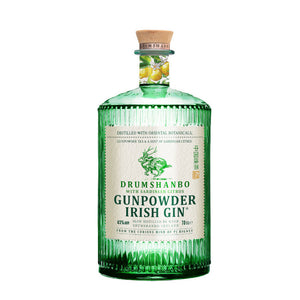 Tasting Notes for Drumshanbo Gunpowder Sardinian Citrus Gin
Aroma: More fruity than the original Drumshanbo Gunpowder version, with marked floral notes and a hint of acidity.
Taste: Creamy with a sweet, savory and bitter character of Sardinian citrus.
Finish: Long and fresh, reminiscent of anise and citrus acidity.
Perfect Serve: Best enjoyed in a smooth, refreshing cocktail or on its own with a generous wedge of fresh red grapefruit.
The latest release from The Shed Distillery: an Irish gin with an exotic twist! This gin is distilled with more than 12 oriental botanicals, gunpowder tea, and a hint of Sardinian citrus. The Sardinian Citrus, Citrus monstruosa or pompia to be exact, is a relative of the orange and grapefruit that can only be found in the eastern half of the Mediterranean island of Sardinia. This bizarre fruit is as large as a grapefruit but almost square in shape with a rough, yellow rind, and is one of the rarest citrus fruits in the world.

The mix of botanicals and gunpowder tea gives this gin a uniquely fragrant, almost exotic aroma. Flavours are a delightful meld of orange and grapefruit, which leads to a mysterious finish. Best enjoyed in a smooth, refreshing cocktail or on its own with a generous wedge of fresh red grapefruit.

A creator of new recipes, an inventor, an experimenter – PJ dreamed of building his own distillery, but not just any distillery. The location was crucial – it had to be wild, un-manicured, in the heart of rural Ireland. A place of curiosity & inspiration, surrounded by nature, immersed in rich history. He discovered the beautiful village of Drumshanbo, on the shores of Lough Allen, at the foothills of Sliabh an Iarainn (The Iron Mountain), and PJ knew he had found the location for his distillery.

It had to be an authentic distillery, a return to the traditional methods using gleaming copper pot and column stills, where PJ could experiment with wild grains, Irish flora, and exotic botanicals. The stills had to be state of the art to create the finest of Irish spirits. The Shed's 5 gleaming copper pot stills – 3 focused on Irish Whiskey, and 2 on Drumshanbo Gunpowder Irish Gin – and 2 copper column stills – focusing on Sausage Tree Pure Irish Vodka – were especially made by Arnold Holstein in Germany and brought over to Drumshanbo, where PJ began his quest to make the Ordinary Extraordinary.

It was during the solar transit of the Winter Solstice sun in 2014, that saw the revered tradition of distilling Irish Whiskey, return to the Western province of Connacht. During this 21st of December, PJ and Denise Rigney, along with their dedicated team of distillers, laid down the first whiskey in Connacht in over 101 years. In fact, the distillation began even before the building of new distillery was even completed – PJ & Head Distiller, Brian Taft, have always been incredibly passionate and dedicated to their endeavours. With this, the Shed Distillery of PJ Rigney was born, and PJ, always true to his endeavours, began his quest to distil only the most premium of Irish Spirits.

| | |
| --- | --- |
| Producer | The Shed Distillery |
| Style | Craft Gin |
| Volume | 70cl |
| ABV | 43% |