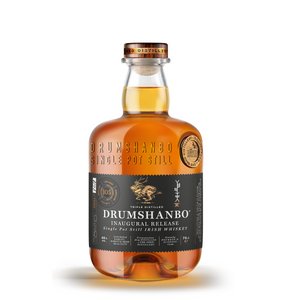 Drumshanbo Inaugural Release Single Pot Still
Aroma: Rich and extravagant, yet balanced with aromatic warm pot spice, vanilla and dried fruit aromas.
Taste: Complex and fully balanced, a glorious marriage of pot spice, fig, Oloroso Sherry and toasted oak notes.
Finish: Elegant with a wonderfully creamy mouthfeel. It lingers sublimely on the palate.
Every precious drop of Drumshanbo Single Pot Still Irish Whiskey has been triple distilled at the Shed Distillery using Malted Irish Barley, Un-malted Irish Barley and Irish Barra Oats. Aged in Sherry Oloroso and Kentucky Bourbon casks with no added colour and no chill filtration, this 46% Single Pot Still has been proudly distilled by Head Distiller, Brian Taft.

Un-malted barley lends the new make spirit a unique spiciness & depth, while the malted barley is much softer, and lends the spirit an inherent sweetness & a deeper, more full body. The small amount of Barra Oats are key to imparting this whiskey with a distinctive elegant creaminess. The first fill Kentucky Bourbon casks give that sweet, vanilla, caramel like feel and the finally the Sherry Oloroso Casks bring in a warmth of pot spice, and some sweeter honeysuckle notes to the finish.

Un-malted barley imparts a silky mouthfeel, when combined with the Barra Oats, to create an intriguing creaminess and spiciness to the finish that truly sets this Irish whiskey apart. This small batch "Single Pot Still" Irish Whiskey is exceptionally smooth, creamy, spicy, and a true delight for the senses. The first Irish whiskey from the Western province of Connacht in over 105 years. This has been a long time coming, and has indeed been worth the wait.

This is a brand new edition so no awards yet. Stay tuned as we update throughout the year!

A creator of new recipes, an inventor, an experimenter – PJ dreamed of building his own distillery, but not just any distillery. The location was crucial – it had to be wild, un-manicured, in the heart of rural Ireland. A place of curiosity & inspiration, surrounded by nature, immersed in rich history. He discovered the beautiful village of Drumshanbo, on the shores of Lough Allen, at the foothills of Sliabh an Iarainn (The Iron Mountain), and PJ knew he had found the location for his distillery.

It had to be an authentic distillery, a return to the traditional methods using gleaming copper pot and column stills, where PJ could experiment with wild grains, Irish flora, and exotic botanicals. The stills had to be state of the art to create the finest of Irish spirits. The Shed's 5 gleaming copper pot stills – 3 focused on Irish Whiskey, and 2 on Drumshanbo Gunpowder Irish Gin – and 2 copper column stills – focusing on Sausage Tree Pure Irish Vodka – were especially made by Arnold Holstein in Germany and brought over to Drumshanbo, where PJ began his quest to make the Ordinary Extraordinary.

It was during the solar transit of the Winter Solstice sun in 2014, that saw the revered tradition of distilling Irish Whiskey, return to the Western province of Connacht. During this 21st of December, PJ and Denise Rigney, along with their dedicated team of distillers, laid down the first whiskey in Connacht in over 101 years. In fact, the distillation began even before the building of new distillery was even completed – PJ & Head Distiller, Brian Taft, have always been incredibly passionate and dedicated to their endeavours. With this, the Shed Distillery of PJ Rigney was born, and PJ, always true to his endeavours, began his quest to distil only the most premium of Irish Spirits.

| | |
| --- | --- |
| Producer | The Shed Distillery |
| Style | Single Pot Still |
| Volume | 70cl |
| ABV | 46% |