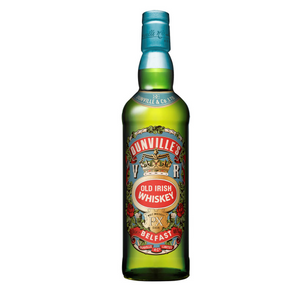 Tasting Notes For Dunville's PX Cask 10 Year Old Single Malt Irish Whiskey
Aroma: Real Irish malt nose. Green apples, vanilla and a slight raisin note with some almonds thrown in.
Taste: Black pepper and malt take the lead, followed up by a slight citrus note of orange and a pleasant floral taste with a little bit of Mocha and spice.
Finish: Juicy and pleasant on the finish with some lingering wood.
One of the single most eye catching bottles that has been released in the last few years is the Dunville's 10 year old Pedro Ximinez Cask Single Malt. The bottle just screams old world magic when it sits on a shelf with the green glass coupled with a 1900s label, there is just something about it.

Dunvilles as a brand has been around since the 1825 and was once made in Belfast's Royal Irish Distillery. Sadly the distillery was one of many to falter in the mid-1900s and it looked as if Dunvilles had disappeared permanently. Fortunately it has been resurected by the Echlinville Distillery who are the proud owners of this historical whiskey and a number of other brands. This award winning single malt is aged for 10 years and finished in top quality Pedro Ximenez sweet sherry casks and bottled at 46% without chill-filtration.

World Whiskies Awards: Gold Medal For Irish Single Malt 12 Years and Under - 2016

Irish Whiskey Awards: Best Single Malt (12 years old and younger) - 2016

The brand Dunvilles has been around since 1825 when it was founded as a tea and spirits merchant in Belfast. Like a lot of merchants of it's time, it started blending and bottling sourced whisky. In 1869 their whisky had become so popular that they constructed their own distillery, The Royal Irish Distilleries in Belfast. With 5 pot stills and a Coffey still they had an output of 2.5 million gallons per year. An impressive output that made them one of the largest on the Island of Ireland. While prohibition in the USA did affect Dunvilles, it didn't close them and they remained a very profitable distillery right up until the 1930s. In 1931 the last remaining Dunville that sat on the board of directors passed away and by 1936, the remaining directors had decided to liquidate the company. What is fascinating about the decision to liquidate is that the company was still profitable and liquidation was not forced on them. Most other distilleries, if not all in Ireland that closed, were forced to close by creditors.

From 1936 the Dunville label remained dormant. It was all but lost to history until 2013 when Shane Braniff and his Echlinville Distillery acquired the rights to the brand and revived it. Using an original bottle as a template, they all but matched the label and bottle design but now called it Whiskey as opposed to Whisky as was traditionally used by Dunvilles. The Dunville 10 year old Single Malt is sourced whiskey that is finished by Echlinville in a Pedro Ximénez (PX) Sherry cask.

| | |
| --- | --- |
| Producer | Echlinville Distillery |
| Style | Single  Malt Irish Whiskey |
| Age | A minimum of 10 years |
| Volume | 70CL |
| ABV | 46% |