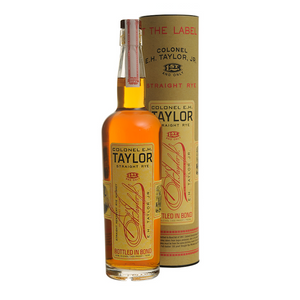 Colonel E. H. Taylor Straight Rye Whiskey
Nose: Dried fruit, black pepper, and touch of fresh dill.
Taste: An array of flavors both sweet and savory with a terrific balance of dark spices and subtle caramel overtones. 
Finish: Especially pleasing combination of spice, oak and caramel which lingers just long enough.
Named for Colonel Edmund Haynes Taylor - a staunch supporter of the 1897 Bottled in Bond Act and bottled in Bond in his honour, meaning it must be the product on one distiller, in one distillery, stored in a government bonded warehouse, bottled at exactly 100 proof (50% abv) and aged for at least 4 years, but that's about all we know for sure about the makeup of this great rye whiskey. Buffalo Trace tell us that it uses a different recipe and profile than Sazerac Rye, and this recipe contains just rye and malted barley, no corn. Whatever is inside, EH Taylor Rye is a great sipping rye. It has plenty of spice and balancing sweetness to give it the kind of kick you look for in a rye, but smoothes out into a something you want to drink over and over with the sweetness.

World Whiskies Awards: Best American Rye - 2020

World Whiskies Awards: Best in Class - 2019

North American Bourbon & Whiskey Competition: Gold Medal - 2019

American Whiskey Masters: Gold Medal - 2019

On February 12, 1830, Edmund Haynes Taylor Jr. — widely considered the father of modern bourbon — was born in Columbus, Kentucky. Orphaned as a baby, Taylor was adopted by Edmund Haynes Taylor, Sr., and was raised in Louisiana by his great-uncle, Zachary Taylor (who would later become the twelfth President of the United States). After attending Boyer's French School in New Orleans, Taylor moved back to Kentucky and matriculated from the B. B. Sayer's Academy. Following in the footsteps of his father, Taylor became involved in banking and came to the aid of several Kentucky distilleries that were suffering from Reconstruction.

In 1869, Taylor purchased a small distillery situated on the banks of the Kentucky River. After christening the distillery OFC Distillery (OFC was an abbreviation for Old Fire Copper), Taylor began renovating and modernizing the plant — he purchased copper fermentation tanks, new grain grinding equipment and unique, columnar stills. During his tenure, Taylor also implemented several innovative distilling techniques, including aging whiskey in climate-controlled rickhouses.

At the time, an overwhelming number of distilleries were still not aging their whiskey. In order to make their spirits palatable, some distillers and retailers added juices and syrups to sweeten the whiskey, while others added acid and tobacco to give the whiskey its signature, amber hue.

Armed with distilling experience and a political pedigree, Taylor, together with Treasury Secretary John G. Carlisle, was instrumental in passing the Bottled-In-Bond Act of 1897 (27 C.F.R. 5.21). The act required that any spirit labeled as "Bonded"or "Bottled-in-Bond" be the product of one distiller at one distillery during one distillation season. In addition, the Act required that bonded spirits be aged in a federally bonded warehouse under U.S. government supervision for at least four years and bottled at 100 proof.

Named in honor of Taylor, Colonel E.H. Taylor Straight Rye Whiskey is made from a mash of rye and malted barley. No corn is used in the production of the rye, and, as a result, it has notes of dark spices that are well-balanced with caramel undertones. Bottled in bond at 100 proof, the rye has a dry and oaky finish, that lingers with notes of cinnamon and vanilla.

Each bottle of Colonel E.H. Taylor Jr. Straight Rye Whiskey is packaged behind a vintage label and inside a canister reminiscent of the bottles Taylor used over one hundred years ago.

Pick up a bottle of history and pay homage to the father of modern whiskey today!

| | |
| --- | --- |
| Producer | Buffalo Trace Distillery |
| Style | Straight Rye Whiskey |
| Age | No age statement |
| Volume | 75CL |
| ABV | 50% (100 proof) |