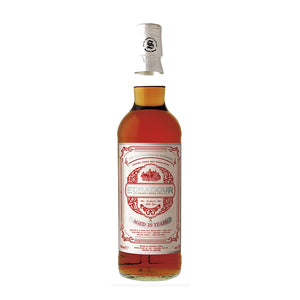 Tasting Notes for Edradour - 10 Year Old (2010) French Connections Signatory Vintage
Nose: Rich, well-developed. Extremely balsamic, like the stunning sherry vinegar it invites us to breathe in on the first nose, the tasting gets off to a strong start. Allowed to breathe, dark chocolate, candied orange, cumin, ginger and toffee give an idea of the aromatic palettes warm character. Red fruits (strawberry, raspberry) and exotic fruits (mango, persimmon, guava) then punctuate a demanding first sequence of aromas, which requires the tasters concentration at every moment.
Taste: Full-bodied and lively. Powdery (cinnamon, ginger) and sweet (caramel), it then becomes deliciously honeyed (lime blossom) and infused (bay leaf, camomile). On the mid-palate, crushed fruits (black grape, white peach, prune, fresh fig) release a truly delicious juice. Finally, dark chocolate gives a particularly mouth-watering bitterness to an impressively long initial flavour sequence.
Finish: Long, concentrated. The roasted (coffee, mocha, tobacco) start of the finish evokes a freshly tilled soil rich in trace minerals. Straw flavours bring to mind the end of the harvest. Next, as on the nose, fruits – now dry (fig, date, chestnut, walnut) – arrive in number and bring lots of flesh to the very end of the palate. A slight hint of, grated ginger, Russian leather and empyreumatic notes of wood varnish and cherry wood chisel a signature into the bottom of the second sequence of flavours.
Made from carefully selected sherry casks, this version of Edradour 10 Years 2010 Signatory Vintage is bottled in the "The Un-Chillfiltered Collection" range, giving consumers a richer flavour profile. This particular expression is fruity and sherry; a delicious combination of blackcurrant, leather, chocolate, spices and honey.

Edradour is produced in one of Scotland's smallest distilleries - and is hand made today as it was over 150 years ago by just three men who are devoted to the time-honoured methods of whisky making. Indeed equipment used at the distillery has remained unchanged since the day the distillery opened and is only just capable of producing commercial quantities. Only 12 casks of whisky are produced a week, making Edradour single malt a rare pleasure for a fortunate few.

Highland malts enjoy a unique depth of flavour and quality that's the result of a fine blend of altitude and mountain water. For many connoisseurs, with its exquisitely smooth and creamy texture, with just a hint of smokiness, Edradour is the jewel in the Highland crown.


Signatory was founded in 1988 by Andrew and Brian Symington and is best known for their Signatory Vintage Scotch Whisky independent bottlings including their Cask Strength and Un-Chill Filtered collections. The name 'Signatory' was derived from the initial intention to find a person of suitable standing to sign the labels for bottles drawn from a single cask. The first cask bottled was a 1968 Glenlivet which quickly sold, though long before any suitable signee could be found. With the initial plan to have all their bottles signed by the great and the good long since abandoned, Signatory went on to become one of the largest and most respected independent whisky bottlers.

Signatory currently bottle at three strengths: 43%, 46% Un-chill filtered (UCF) and Cask Strength. To add proof of authenticity to their cask strength bottlings, Signatory always include the cask numbers, date of distillation, date of bottling and number of bottles produced. Signatory Vintage's aim is to offer as wide a range of whiskies as possible, some of which are not even bottled by the proprietary distillery. This allows malt enthusiast to sample the huge variety of subtle differences which occur between casks.


| | |
| --- | --- |
| Producer | Edradour Distillery for Signatory Vintage |
| Style | Single Malt Scotch Whisky |
| Age | 10 Years |
| Volume | 70CL |
| ABV | 46% |