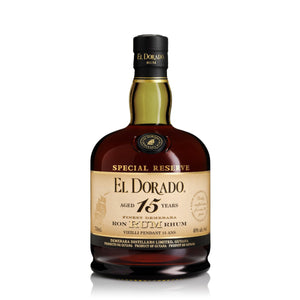 Tasting Notes for El Dorado 15 Year Old Rum
Nose: Dark brown sugar and thick, gooey toffee, notes of stewed stone fruits, prunes and molasses.
Taste: Sweet and syrupy with notes of sweet spices, thick notes of dark brown sugar and molasses, treacle, toffee and prunes.
Finish: Long, creamy and thick, dark spices.
The multi-award winning El Dorado 15-year-old rum is produced by Demerara Distillers Limited (DDL) in Guyana, South America. Demerara Distillers started life back in the 1600s, and are the sole survivors of what was once a thriving rum industry with over 300 distilleries. DDL have put all the knowledge and heritage to good use, and today they really are one of the greatest rum producers on the planet. A large part of the reason are DDL's historic stills, built in the 18th and 19th centuries and still in operation today, they produce a number of amazing flavours which are unique in the world.

El Dorado 15 Year Old marries spirits from the Enmore and Diamond Coffey stills, the Port Mourant double wooden pot still and the Versailles single wooden pot still. All the tasty spirits are blended and then aged in bourbon oak casks for a minimum of 15 years in the tropical heat of Guyana before bottling. This was awarded the Wray & Nephew Trophy for Best Rum in the World at the International Wine & Spirits Challenge for an unprecedented four years running.


Long acknowledged as one of the Caribbean's premier rums, continuously winning major awards. Here's a sample:

2011 Gold Medal & Best in Class – International Wine & Spirit Competition, London

2011 IWSC Trophy for Rum – International Wine & Spirit Competition, London

2010 IWSC Trophy for Rum – International Wine & Spirit Competition, London

2009 Gold Medal & Best in Class – International Wine & Spirit Competition, London

2009 Best Rum in UK – Imbibe Magazine ICE Awards, London

2008 Gold Medal & Best Rum Worldwide Trophy – International Wine & Spirit Competition, London

2007 Gold Medal & Best in Class – International Wine and Spirit Competition, London

2006 Gold Medal & Best in Class – International Wine & Spirit Competition, London

The story of rum in Guyana started in the 1640s with the introduction of sugar cane by the early European settlers. By 1670, the foundation of Demerara Rum production was laid down with the establishment of distilling into the new territories by the British. The county of Demerara once covered by the Atlantic Ocean, was recovered by the Dutch in the 1600s. Using their ingenious land reclamation methods, the Dutch successfully reclaimed the land resulting in soil that was high in minerality and nutrients paving the way for sugar cane cultivation in the 1650s.

By 1780, there were over 300 distilleries producing their own unique rums, each with its own marque identifying its origin (e.g. SWR, ICBU, PM, EHP, LBI, AN). The rum industry continued to thrive in Guyana until an unexpected drop in the price of sugar and the introduction of taxes in the 1900s resulted in the severe consolidation of the sugar industry, as it was not economical for all estates to remain in operation. By 1942, there were nine remaining distilleries.

In 1999, final merger of the remaining sugar estates and distilleries by transfer of the various stills, equipment and expertise by Demerara Distillers Limited at the only active distillery in Diamond, on the East Bank of the Demerara River. Diamond distillery contains 9 stills, each acquired from other distilleries as they closed down. These stills cover the full spectrum of rum from heavy pot distilled, to light column distilled, but the distillery is best known for its 3 wooden stills – a port Mourant double wooden pot still, a Versaille single wooden pot still, and an Enmore wooden coffey still. These wooden stills are the last of their kind anywhere in the world, and their unique character is a large part of the reason why the Diamond Distillery has built the stellar reputation it currently enjoys.


| | |
| --- | --- |
| Producer | Demerara Distillers Limited at their Diamond Distillery, Guyana |
| Style | Single Blended Rum |
| Age | A minimum of 15 years |
| Volume | 70CL |
| ABV | 40% |