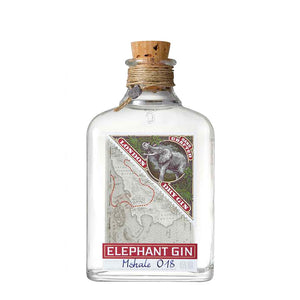 Tasting Notes for Elephant Dry Gin
Aroma: Aromatic dry pine, freshly cut celery, lavender, root ginger, grapefruit and orange zest. 
Taste: Dry pine and sweet floral flavours with a rounding woodiness (possibly from some mystical African botanical), zesty citrous and zingy cinnamon spice.
Finish: Pine, camphor and lavender with lemon zest, ginger and black pepper spice.
Crafted just outside of Hamburg, Germany, Elephant Gin is made up of 14 botanicals. There are classic botanicals such as juniper, cassia bark and sweet orange peel alongside the more unusual additions of ginger, lavender, elderflower, pimento berries, fresh apples and pine needles. Some wonderful African botanicals are thrown in the mix including Baobab fruit, Buchu plant (similar to blackcurrant), African Wormwood, Lion's Tail and Devil's Claw.

The first step in making Elephant Gin begins with the botanicals being macerated for 24 hours in an Arnold Holstein copper pot still. Elephant Gin use a "one-shot" distillation method and remove any impurities they find by making a relatively large heads and tails cut during distillation. Each run produces around 800 bottles, which is then diluted to 45% ABV using locally-sourced spring water.

15% of Elephant Gin's profits go to two African elephant foundations (Big Life and Space for Elephants) to support rangers who protect against poachers and run education projects in local communities. Save the elephants, drink gin!

While on their adventures through Africa, the founders of Elephant Gin; Robin Gerlach, Tessa Wienker and Henry Palmer were all inspired to create the spirit after they fell in love with the wildlife there. Their wish was to launch a product they hoped would help conservation trusts. "Every year more than 35,000 elephants die because of uncontrolled ivory poaching; in other words, one African elephant dies every 15 minutes."

The trio of adventurers brought their idea back to Germany and set about crafting a gin using a mixture of traditional and African ingredients. This could have went wrong in many places, just throwing ingredients with cool sounding names such as Lion's Tail and Devil's Claw in the mix without much thought probably wouldn't make a very good gin. What has happened with Elephant gin is that the African ingredients have replaced more traditional gin botanicals such as orris, coriander and angelica, and have been complemented by other rarely used botanicals like ginger, lavender, elderflower, pimento berries, fresh apples. It sounds like it shouldn't work, but somehow it really does.

The process to make Elephant Gin begins with the botanicals being macerated for 24 hours in an Arnold Holstein copper pot still. Elephant Gin use a "one-shot" distillation method and remove any impurities they find by making a relatively large heads and tails cut during distillation. Each run produces around 800 bottles, which is then diluted to 45% ABV using locally-sourced spring water.

Elephant Gin's logo and bottle design has had a lot of thought put into it. The logo's design as a stamp on the top right corner is a reference to the letters sent home by African explorers. The map with red dots clearly represents the journey either the explorers or elephants would have taken across the plain, which is a nice touch and appealing to the eye. The bottles are custom-made – definitely not an easy decision budget wise – and resemble a flask; explorers would have had similar bottles to these on them throughout their journeys.

After perfecting the recipe, crafting the bottles and labels and finally making the gin, the trio of adventurers decided to give 15% of Elephant Gin's profits to two African elephant foundations (Big Life and Space for Elephants) to support rangers who protect against poachers and run education projects in local communities. Good work!!

| | |
| --- | --- |
| Producer | Elephant Gin Distillery |
| Style | London Dry Gin |
| Volume | 75cl |
| ABV | 45% |