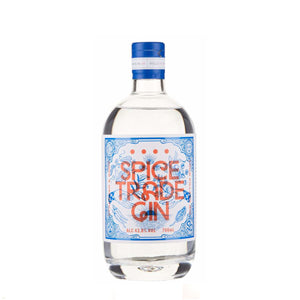 Tasting Notes for Four Pillars Spice Trade Gin
Nose: Powerful aromas of Juniper, finger lime, chilli, cardamom and turmeric.
Taste: The palate is huge. The weight is built from macadamia and cashews along with sarsaparilla and cassia which hold the spices together. The warming spices of teppal, long pepper, fresh red chilli and black cardamom blend with lemon and anise myrtle to add to the power and depth of the gin.
Four Pillars Spice Trade Gin is the fourth in their Distiller Series, where they partner with another distillery in a different part of the world to create a unique gin together, reflective of both distillery's style. To make this gin Four Pillars collaborated with Stranger & Sons, a craft distillery based in Goa, India, whose Indian Spirited Gin won gold at the 2020 IWSC.

With a love for spice in food and drinks, Four Pillars and Stranger & Sons began trading spices across the Indian Ocean, and trading ideas across Zoom calls. The result is quite literally a spice bazaar in a glass - a modern Indian take on a modern Australian gin. Spicy, full of flavour, and perfect paired with a spicy Indian curry.

The Four Pillars journey started back in 2013 with three mates and one extraordinary custom-built copper still made by Carl of Germany. They called her Wilma (after Cameron's beautiful late mother), and she has since been joined by Jude, Eileen, Beth and Coral.

In 2015 they founded their own distillery and new home in Healesville, Yarra Valley in what was once a timber yard. Four Pillars Distillery brings together everything under one roof, producing and experimenting with gin on one side, while serving up drinks and tastings on the other.

A few years later, in 2019, Four Pillars Gin was named the world's leading gin producer by the IWSC in London. This was followed up with another win in 2020, making Australia's favourite gin officially the world's best.


| | |
| --- | --- |
| Producer | Four Pillars Distillery |
| Style | London Dry Gin |
| Volume | 70CL |
| ABV | 43.8% |