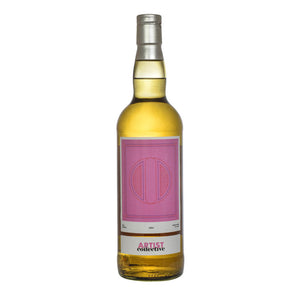 Tasting Notes for Glenlossie 12 Year Old Single Malt - Artist Collective 2009
Nose:  Rich and heady with very pretty notes of straw, green almond and candied lemons accompany honey and fruity (pear, apple, pineapple) aromas. As a highlight, green barley, freshly cut grass and green liquorice refresh the ambient atmosphere. 
Taste: Lively and sharp, oscillating between freshly cut grass and almond milk. In the mid-palate, aromatic plants (sage, verbena, chamomile) irremediably intensify the vegetal character of the taste palette. 
Finish: Long and balanced with juicy pears and squeezed lemons at the fore, after which dill and a very nice malty bitterness, reconnect with the floral terroir of this beautiful Glenlossie.
Glenlossie 12 Years Old Artist Collective 2009 is a limited-edition Glenlossie single malt, released in 2021 as part of La Maison du Whisky's Artist Collective series. The whisky was distilled in 2009 and aged for 12 years in a first-fill bourbon cask, before being bottled at 43%. This original Glenlossie single malt has a delicate, floral and fruity nose. The palate is fruity and lively with notes of honey, lemon and menthol, leading to a long finish with hints of honey, balsamic vinegar and eucalyptus. The label features the artwork 'Zero' by Nick Leibold, whose apparent minimalism has hidden depths.

As distilleries go Glenlossie isn't the most well known. That, however, isn't without good reason. Blenders across Scotland have long been huge fans of its light floral nature which is complimented by a crisp grassy maltiness. Over 90% of the single malt whisky produced at Glenlossie goes into some of the world's best known blends. A whisky that many haven't indulged in but certainly not one to ignore. There are distilleries that are full of stories and legend, and there are distilleries that have been built to produce consistent, quality malt whisky. Founded in 1876 and quietly producing quality whisky ever since, Glenlossie falls into the later category, but that doesn't take away from just how important it is to the Scotch whisky industry.


Since the dawn of time, artist collectives have been places of exchange, inspiration and creativity. In the same way, each of the single malts found in the La Maison Du Whisky Artist Collective range draws the richness of their 70 years of expertise in selecting the very best casks for small batch creations. Devoted to diversity, every region and every style of Scottish single malt, peated and unpeated, are represented.

The marquee release from LMDW Creations, this line is lovingly created with casks hand-picked in limited release for the discerning. Each release features a contemporary artist, drawing on their own personal experiences echoing the essences of the spirits. They have been bottled especially in the hopes that these expressions will delight, amuse, and inspire. We can attest that they certainly do that and this is one of our favourite ranges.


| | |
| --- | --- |
| Producer | Glenlossie Distillery |
| Style | Speyside Single Malt Scotch Whisky |
| Age | 12 Years |
| Volume | 70CL |
| ABV | 43% |