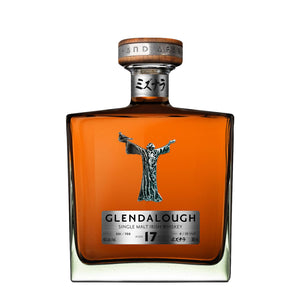 Tasting Notes For Glendalough 17 Year Single Malt Mizunara Finish
Nose: Rich, sweet vanilla, marmalade, over-ripe banana, and toasted oak spice.
Taste: Intense, but balanced. Honeycomb, creamy vanilla, moving through malt into resinous sandalwood and cedarwood spices with aloeswood incense.
Finish: Long and lingering with chocolate, mocha, toasted oak and malt with a touch of clove.
After 15 years in a first-fill bourbon cask, this was already an exceptional single malt. It had vibrant citrus notes over the long, sweet honey and vanilla you'd expect. It was the rare, Japanese Mizunara, however that brought the unexpected.

The Mizunara oak, sourced from an island 6,000 miles away, has really rounded this whiskey, bringing the viscosity to a luxurious, creamy mouth-feel. Sweet but spicy, very smooth but very complex. Even before this whiskey touches your lips, the nose promises an exotic adventure in flavor. Oriental incense, woody spices and coconut aromas, mix wonderfully with the lighter fruitier notes of this Irish single malt.

The Glendalough Distillery was among Ireland's first craft whiskey producers - founded by 5 friends with a mutual love of Irish whiskey and steeped in the lore and legend of Ireland back in 2011. The distillery is located in a narrow glacial valley in the Wicklow mountains, about an hour or so south of Dublin. Glendalough, pronounced glen-de-lock, is Gaelic for the glen of two lakes. County Wicklow, in which the valley is situated, is known as the "Garden of Ireland" and is among the most visited scenic attractions in the country. The venture was able to draw on the expertise of its founders Barry Gallagher and Brian Fagan, drinks analysts working in finance, and Gary McLoughlin and Kevin Keenan, who had experience in drinks advertising.

While drawing their inspiration from heritage, they weren't shy about innovation. With the help of another craft distillery, they first released a poitín distilled from sugar beet and barley and matured in Irish oak casks in 2012. Poitín was the origin of the species, the original "water of life". It's Ireland's gift to the world, one of the first spirits ever to be distilled, but the people at Glendalough have added their own twist. They now even have a version matured in sherry casks.

In 2013 they set up a distillery in beautiful Wicklow for themselves after purchasing a Holstein still from Germany. While they wait for their own stocks to mature, they have sourced whiskey from the Cooley Distillery in Louth, but again they've managed to make it their own through the maturation and blending. Each bottle features the image of St Kevin, a sixth century hermit monk who founded a monastery in the valley of the two lakes.

| | |
| --- | --- |
| Producer | Glendalough Distillery |
| Style | Single Malt Irish Whiskey |
| Age | A minimum of 17 years |
| Volume | 70CL |
| ABV | 46% |