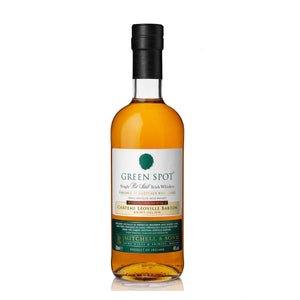 Tasting Notes
Nose: It is the contribution of the French oak which drives the initial aroma adding some crisp woodland notes to the spicy Single Pot Still character. The wine seasoning brings a delicate touch of floral perfume and a hint of ripe berries such as raspberries and strawberries, these are in addition to the orchard fruits typical of Green Spot.
Taste: The familiar mouth coating effect is a very satisfying balance of oak and spices. Some vanilla sweetness works in harmony with the dry wine influence, while the fresh orchard fruits and French oak combine effortlessly with barley grains to complete the complexity.
Finish: The rich French oak character is slow to fade leaving the wine and spices of France and Ireland with the last word.
Their origins in history, two stories of Irish endeavour and enterprise intertwine and together are the inspiration for a special edition whiskey - Green Spot Château Léoville Barton, the first ever Single Pot Still Irish Whiskey to be finished in Bordeaux wine casks. The new release adds an innovative, new dimension to the classic Green Spot expression, which is already renowned among whiskey lovers for its exceptional quality.

Set in the heart of the Saint Julien appellation in Bordeaux, one of the most revered winemaking regions in the world, Léoville Barton is a grand cru Château renowned for producing world class wine. Léoville Barton is overseen today by Anthony and Lilian Barton, direct descendants of Thomas Barton, a 'Wine Geese' winemaker who founded a wine merchant company in 1725, after migrating from his native Ireland.

Initially matured in a traditional mix of ex-Oloroso sherry, new Bourbon and ex-Bourbon barrels the whiskeys were then transferred into the ex-Bordeaux wine casks for between 12 and 24 months. This imparted distinctive, floral flavours of varying intensity, resulting in a perfectly balanced whiskey.

Another highly decorated whiskey, here's a sample of awards:

Ultimate Spirits Challenge: 98 Points and Chairman's Trophy - 2020

The Irish Whiskey Masters: Gold Medal - 2019

Ultimate Spirits Challenge: 96 Points - 2017

World Whiskies Awards: World's Best Pot Still Whiskey - 2016

Green Spot is a single pot still Irish whiskey, produced specifically for Mitchell & Son of Dublin, byIrish Distillersat the Middlteon distillery in Co. Cork. It is one of the few remaining bondedIrish whiskeys, and is currently the only brand specifically produced for and sold by an independent wine merchant in Ireland.Mitchell & Son wine merchants were established in 1805; however, it is uncertain exactly when Green Spot was first produced. It is known though, that by the 1920sMitchell& Son were sending their empty barrels to Jameson'sBow Street Distillery to be filled with whiskey, and Jameson in turn were supplying them with at least 200 Sherry barrellsof pot still distilled whiskey per annum.The Mitchells sold a range of whiskeys under their 'Spot' brand name.This name originated from their practice of marking casks of different ages with a daub or spot of coloured paint. There was a Blue Spot, Green Spot, Yellow Spot, and Red Spot representing whiskey aged 7, 10, 12 and 15 years respectively.

| | |
| --- | --- |
| Producer | Produced exclusively for Mitchell & Sons by Irish Distillers for over 100 years. |
| Style | Single Pot Still Whiskey |
| Age | No age statement |
| Volume | 70CL |
| ABV | 46% |