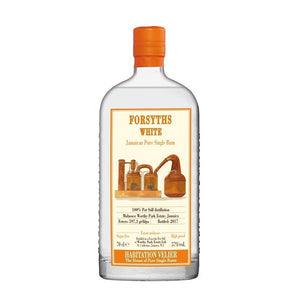 Tasting Notes for Habitation Velier - Forsyth's Jamaican White Rum
Nose: Very aromatic with initial aromas of varnish and acetone, pear drops, deep molasses and creamy, sweet overripe bananas. Followed up with the brine, olives and coastal notes. It's incredibly 'funky' and unbelievably lovely stuff.
Taste: Remarkably approachable. Sweet entry initially before the peppery bite and heat build to a crescendo. A creamy, almost milky coffee. Overripe banana which is the Worthy Park trademark. Fresh sugarcane.
Finish: Relatively short in length but it crams a lot in....Brine. Olives. Pineapple.
Another fascinating and unique bottling from Italian rum importers and bottlers Velier.

This bottling has been produced at the legendary Worthy Park distillery, and distilled in their Forsyth pot still. Worthy Park is known for its long, three month fermentations that produce a spirit high in congeners, which helps to create the rum's unique "funky" flavour.

Velier bottlings are known for giving a lot of information on the label, and this is no exception, detailing that the rum boasts 597.3 grams of esters per hectolitre of pure alcohol. Translation: expect funk!

The rum has been distilled from molasses produced at Worthy Park.

This is an intensely characterful rum, that serves up notes of overripe bananas, pineapple, mango, raisins, apricots, chocolate, treacle, a slightly vegetal note and huge grassy Jamaican funk.

Bottled at 57% ABV, this is an formidable spirit, that is well suited to mixing into cocktails. A lot bartenders use rums like these almost as seasoning for their drinks, adding an extra funky dimension.

A bottling that will challenge your preconceptions of white rum.

The Velier company was founded by the Chaix family in 1947. From 1953 to 1983, this small traditional company, located in the port of Gênes, specialised in the importation and distribution of wines, champagnes and spirits. In 1983, then aged 25, Luca Gargano acquired shares in Velier. Under his influence the company began specialising in the importation of exceptional spirits to be supplied to the most prestigious establishments in Italy. In the early 1990s, Luca Gargano heard rumours of a mythical, quasi-legendary stock of St James Rum that had supposedly been distilled at the end of the 19th century. Eventually he discovered proof that this stock, distilled in 1885 and bottled in 1952, did indeed exist. And in 1991, following lengthy discussions, Luca finally managed to acquire the entirety of this stock, which he then released on the Italian market. These selections of rums have since multiplied and led to the birth of exceptional ranges.

The latest range by Velier and Luca Gargano is Habitation Velier. The result of extensive research and education on rum over the past decades, combining Velier's experience with the know-how of the best rum producers. This range of rums takes up the codes dear to the brand, namely changing the perception of things, from the importance of aging to the importance of pot still distillation.

The idea behind the Habitation Velier project is to educate consumers and to promote artisanal distillation and the distiller's art and techniques. Each expression, with its unique features, embodies an original project, a "world premiere" for each distillery. The range includes white Pure Single Rums, which although still not widely known, are the quintessence of sugar cane and its by-product, molasses.

Today, these white rums provide great inspiration for new generation international mixology. The vintage Pure Single Rums are entirely aged in a tropical climate, which ensures natural, accelerated aging compared to European ageing, at the expense of the quantity produced. All Habitation Velier rums are bottled at barrel proof, non-chill filtered, and without the addition of caramel or any other element not from distillation.

| | |
| --- | --- |
| Producer | Worthy Park Distillery for Velier |
| Style | Pure Single Rum |
| Age | Unaged |
| Volume | 70CL |
| ABV | 57% |