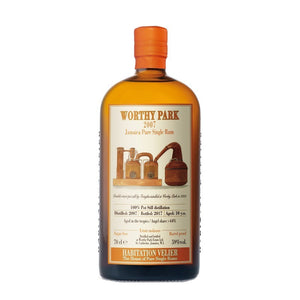 Tasting Notes for Habitation Velier - Worthy Park 2007
Nose: Initial notes of banana, pineapple and coconut evolve into toffee, milk chocolate and caramel. Notes of almond and cashew nut mingle alongside a very rich caramel heavy hit of sweet alcohol, a burst of spicy barrel notes, and a trace of black tea.
Taste: Full of flavour – very spicy with lots of lemon and orange zest. Nicely balanced oak spice married alongside chocolate covered bananas and banoffee pie. On the mid palate you get more of the black tea, coconut and some slightly bitter cocoa.
Finish:  Long oaky finish with notes of coconut, ginger, allspice and a hint of cinnamon. As it fades you get a nice hit of pineapple, cocoa and dark chocolate.
Worthy Park have been gaining a reputation for producing classic yet very distinctive Jamaican rums over the past few years, and this release follows on from the Habitation Velier – Forsyth's 2006. As the Habitation Velier releases are actually joint ventures between Velier and the distillery, Worthy Park have allowed their name to be used for the first time on a product which is not a distillery release. No other independent bottler has this honour.

This 10 year old rum is a result of the third distillation since the distillery was re-opened in 2005, and was distilled on their Forsyths Double Retort Pot Still. It is a 100% Pot Distilled Rum aged in ex-bourbon casks for the entire duration from distillation in 2007 until bottling in late 2017. The WPL marque stands for Worthy Park Light, as it is a relatively low ester rum, which is the main difference from the 2006 release, which was WPM – Worthy Park Medium. Habitation Velier Worthy Park 2007 has been bottled at 59% ABV – Cask Strength, or Barrel Proof if you prefer.

The Velier company was founded by the Chaix family in 1947. From 1953 to 1983, this small traditional company, located in the port of Gênes, specialised in the importation and distribution of wines, champagnes and spirits. In 1983, then aged 25, Luca Gargano acquired shares in Velier. Under his influence the company began specialising in the importation of exceptional spirits to be supplied to the most prestigious establishments in Italy. In the early 1990s, Luca Gargano heard rumours of a mythical, quasi-legendary stock of St James Rum that had supposedly been distilled at the end of the 19th century. Eventually he discovered proof that this stock, distilled in 1885 and bottled in 1952, did indeed exist. And in 1991, following lengthy discussions, Luca finally managed to acquire the entirety of this stock, which he then released on the Italian market. These selections of rums have since multiplied and led to the birth of exceptional ranges.

The latest range by Velier and Luca Gargano is Habitation Velier. The result of extensive research and education on rum over the past decades, combining Velier's experience with the know-how of the best rum producers. This range of rums takes up the codes dear to the brand, namely changing the perception of things, from the importance of aging to the importance of pot still distillation.

The idea behind the Habitation Velier project is to educate consumers and to promote artisanal distillation and the distiller's art and techniques. Each expression, with its unique features, embodies an original project, a "world premiere" for each distillery. The range includes white Pure Single Rums, which although still not widely known, are the quintessence of sugar cane and its by-product, molasses.

Today, these white rums provide great inspiration for new generation international mixology. The vintage Pure Single Rums are entirely aged in a tropical climate, which ensures natural, accelerated aging compared to European ageing, at the expense of the quantity produced. All Habitation Velier rums are bottled at barrel proof, non-chill filtered, and without the addition of caramel or any other element not from distillation.

| | |
| --- | --- |
| Producer | Worthy Park Distillery for Velier |
| Style | Pure Single Rum |
| Age | 10 years |
| Volume | 70CL |
| ABV | 59% |