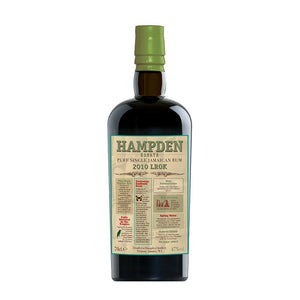 Tasting Notes for Hampden 2010 LROK 47%
Nose: Fruity hints of dried banana, sweet and sour candies and brown sugar syrup.
Taste: Fresh with menthol, camphor, exotic fruits and vanilla.
Finish: Long and silky with notes of rum cake, liquorice and orange peel.
Overall: The 11 years tropical matured Pure Single Jamaican Rum promises full-bodied Jamaica enjoyment, and Hampden Estate do not disappoint.
The Hampden Estate is quickly becoming acknowledged by spirits experts as one of the most important producers of any kind anywhere in the world. What was once relegated to blenders' warehouses has now been established as one of the finest spirits producers in the world. The brand's identity is intertwined with the famous Italian importer, Luca Gargano, who revived its image and helped to blend and market the first tropically aged, distillery bottled versions of this special product.

Known for its wild fermentations and pot-still distillations, Hampden Estate is able to produce a large quantity of different rums. Each of these rums has a "mark". The one we are interested in here is a LROK (Light Rum Owen Kelly) and refers to a rum with a high ester concentration, ranging from 200 to 400 g/hLPA. This mark created in 1952 belongs to the wedderburn category, ie: the heavy rums.

Hampden Estate 2010 LROK was aged for 11 years in ex-bourbon barrels in the tropical climate of Jamaica, and is one of the oldest rums released by the distillery to date. No colouring or other additives were added, with the only addition being spring water from the nearby mountain which was used to reduce its alcohol content to 47% abv. For more technical details, we are told that the concentration of volatile substances is equal to 1240.2 g/hlap, of which 334.7 are esters.


Hampden is an old-line Jamaican rum distillery which has been in continuous production since 1753, and is by far the most unchanged from how it looked and operated hundreds of years ago. It produces the funkiest, highest ester rum of any Jamaican distillery, the direct result of a fermentation process that is unique, and impossible to replicate anywhere else. 250 years of fermentation in the same room have built up a unique microbiota of fungus and yeast which populate a mystery fluid residing in brick-lined pits set into the ground, and start fermenting. This process takes a variable amount of time from batch to batch and can last up to several weeks, with the antique fermentation room and ancient equipment monitored by the most high tech devices available to ensure that its fermented molasses is only moved to the still house when it is just right.

Hampden has four pot stills from three continents: Two Forsyths from Scotland, a Vendome from Kentucky, and the last from T&T Engineering in South Africa and is one of only 2 Jamaican distilleries which are pot still only. Maturation is done on site, and the ageing rooms are in an adjoining building, along with the large "pool" where they produce the pure sugar cane vinegar which, added at the fermentation stage, gives Hampden rum its unique and unmistakable aromatic bouquet.


| | |
| --- | --- |
| Producer | Hampden Estate Distillery |
| Style | Single Pot Still Rum |
| Age | 11 years tropical aging in Jamaica |
| Volume | 70CL |
| ABV | 47% |