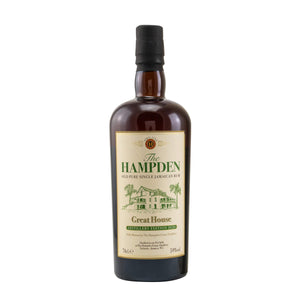 Tasting Notes for The Hampden Great House Jamaican Rum 2020 Edition
Nose: Extremely powerful and rich, with ripe banana and pineapple backed up by a hint of oak and brooding camphor. 
Taste: The fruits are present but play a supporting role to darker flavors of chocolate, liquorice, tobacco, and a burnt, earthy element. 
Finish: Baking spices, particularly cinnamon, nutmeg, cocoa, and sweet rum baba cake.
Overall: Limited edition rum from one of the world's stand-out distilleries. You would expect this to be excellent, and it surpasses those expectations.
The Hampden Estate is quickly becoming acknowledged by spirits experts as one of the most important producers of any kind anywhere in the world. What was once relegated to blenders warehouse has now been established as one of the finest spirits producers in the world. The brand's identity is intertwined with the famous Italian importer, Luca Gargano, who revived its image and help blend and market the first tropically aged, distillery bottled versions of this special product. Now the distillery is releasing its Distillery Only blend to the world.

This one was blended by Hampden's Master Distiller Vivian Wisdom and consists of two of the many Hampden marks, OWH and <>H. The OWH or Outram W Hussey component (40-80 gr/hL esters) is the lowest ester rum made at Hampden and was distilled in 2013. The <>H component (900-1000 gr/hL) is one of the higher ester rum and was distilled entirely in 2017. Blended 80/20, the resulting rum is modelled to the preferences of the distillery workers themselves and is absolutely delicious.

Named as a tribute to the astonishing old mansion at the distillery built in 1779 by the estate's original owners, the Stirling Family. Its first floor was used for rum storage barrels waiting to be transferred. Now it serves as a symbol for the incredible tradition that's been built there over the centuries. Only 3,000 bottles of this special rum were produced worldwide.

Hampden is an old-line Jamaican rum distillery which has been in continuous production since 1753, and is by far the most unchanged from how it looked and operated hundreds of years ago. It produces the funkiest, highest ester rum of any Jamaican distillery, the direct result of a fermentation process that is unique, and impossible to replicate anywhere else. 250 years of fermentation in the same room have built up a unique microbiota of fungus and yeast which populate a mystery fluid residing in brick-lined pits set into the ground, and start fermenting. This process takes a variable amount of time from batch to batch and can last up to several weeks, with the antique fermentation room and ancient equipment monitored by the most high tech devices available to ensure that its fermented molasses is only moved to the still house when it is just right.

Hampden has four pot stills from three continents: Two Forsyths from Scotland, a Vendome from Kentucky, and the last from T&T Engineering in South Africa and is one of only 2 Jamaican distilleries which are pot still only. Maturation is done on site, and the ageing rooms are in an adjoining building, along with the large "pool" where they produce the pure sugar cane vinegar which, added at the fermentation stage, gives Hampden rum its unique and unmistakable aromatic bouquet.


| | |
| --- | --- |
| Producer | Hampden Estate Distillery |
| Style | Single Pot Still Rum |
| Age | No Age Statement |
| Volume | 70CL |
| ABV | 59% |