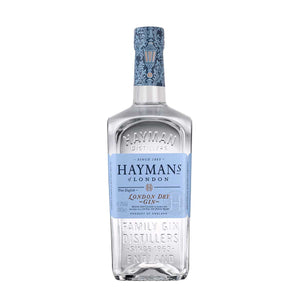 Tasting Notes for Hayman's London Dry Gin
Aroma: A perfectly balanced marriage of crisp juniper and fresh citrus.
Taste: Bold juniper, bright citrus and warming spice coming together.
Finish: Citrus and spice give way to a dry finish with pleasingly earthy notes.
Recommended Serve: Classically paired with tonic water and a twist of lemon peel for a True English G&T.
Unlike other London Dry Gins available today, Haymans is a true English London Dry Gin, distilled to a 150 year old family recipe using a traditional two-day process.

The long-standing family recipe of steeping just ten botanicals in English wheat spirit for a full day before distillation creates a fresh, bright and classically balanced gin with crisp citrus, subtle notes of exotic spice and the remarkable depth and complexity traditionally associated with the London Dry style.

Uniquely suited to the classic cocktails of the 19th and early 20th Century that were built around the style, Hayman's recommend enjoying their True English London Dry's crisp complexity in a refreshing G&T or a fortifying classic martini.

The Hayman gin distilling story starts in 1863 when James Burrough, a charismatic London pharmacist opened a small distillery in Cale Street, Chelsea (then spelt as Chelsey). He experimented with a number of gin recipes, giving them names such as Burrough's, Olde Chelsey, Beefeater and Black Cat. At that time, London's gin of choice was Old Tom Gin, however James was busy pioneering a drier style that we know today as London Dry Gin.

James was the great grandfather of Christopher Hayman and the Hayman family have been distilling gin ever since.

In the same way as many a family business that has been around for more 150 years, the Hayman gin journey has been full of twists and turns – from global conflicts, prohibition and dips in gin trends. A major turn came in 1987 when the family business was sold. A disappointed Christopher promptly purchased back one part of the business so that he could continue the family's gin distilling journey.

Today Hayman's is based in Balham, South West London and only a few miles from the original family distillery in Chelsea. Christopher's children James and Miranda now run Hayman's -while sharing the same passion and affection for gin. Christopher, Hayman's Master Distiller, is often seen in the distillery, taking an active role in the distillery process and sharing his knowledge. In 2019, he celebrated 50 years of working in gin, which was marked by introducing Hayman's Rare Cut – their London Dry cut at 50% – the perfect strength for a Martini – Christopher's favourite cocktail.

The very essence of Hayman's gin today is that they still make their gin using the same family recipes developed over 150 years ago. Using only the finest botanicals available combined with the two-day gin making process, their botanicals are infused in English wheat spirit for an entire day allowing the full natural flavours to shine through.

Hayman's traditional process is rare in this age of modern gin, however they are convinced it is this technique, as well as further innovations, which has led to the most highly acclaimed awards as well as continued positive acclamation for Hayman's Gin.

| | |
| --- | --- |
| Producer | The Hayman Distillery |
| Style | London Dry Gin |
| Volume | 70cl |
| ABV | 41.2% |