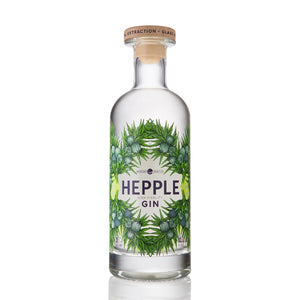 Tasting Notes for Hepple Gin
Aroma:  An immediate fresh scent of green apple, bright grapefruit and spicy juniper. This then opens up to reveal underlying notes of Douglas Fir, and fragrant blackcurrant.
Taste: The initial fresh citrus flavours evolve into unexpected ripe cantaloupe melon, the spicy fragrant juniper continues to coat the palate. There is a luscious sweet mouthfeel, which is both juicy and quenching.
Finish: Extremely long and this is where the juniper reveals itself further with flavours alternating between sandalwood and cedar with a notable savoury presence that complements the sweet blackcurrant and liquorice. The sweet juiciness is maintained throughout the finish.
Our serving suggestion: Works well in any classic gin cocktail and is especially great in a Martini. We recommend a 5:1 ratio along with your favourite garnish.
Classic style gin made using contemporary technology. Hepple gin is about 2 things - Juniper and process. They are using locally picked green juniper, which is not ripe, and tends to have a wildly different aroma profile than ripe juniper, along with Macedonian juniper and Italian Juniper. A bunch of the usualy gin botanicals are also added (Angelica, Bog Myrtle, Coriander, Blackcurrant Leaf, Blackcurrants, Douglas Fir, Fennel, Green Juniper, Juniper, Lemon, Licorice, Lovage, Orris Root to be exact), but this gin is all about extracting the maximum amount of flavour for the finest expression of a classic juniper forward gin we have come across in a long time.

The three methods used to maximize the flavor of the botanicals are (in no particular order).

1) A pot still. Many distillers use copper pot stills, there's nothing unusual here.

2) A Vacuum Still. Low temperature distillation is used by Sacred, Greenhook and the Origin Juniper series. By reducing the heat, more aromatic integrity is preserved. More aroma molecules = more flavor.

3) A CO2 Extraction System. More often used by organic chemists conducting research into aromatic molecules and perfumers, "Most of the volatile components, which tend to be lost in hydrodistillation, are present in the supercritical extracts" More aroma molecules in this case = truer to reality flavor.

International Wine & Spirits Competition: 95 Points - 2019

San Francisco World Spirits Competition: Double Gold - 2017

The Gin Is In: Double Gold - 2017

Difford's Guide: 5 Star+

Celebrated foraging chef Valentine Warner brought legendary bartender Nick Strangeway and distillery developer Cairbry Hill up to Hepple in the remote Northumbrian National Park to meet Walter Riddell, owner of the Hepple estate in March 2013. A bone-chilling wind was blowing from the east, as ever. The original plan was to make something esoteric, but out on the moor the wind hounded them to take refuge amongst a stand of ancient junipers, glittering with green and purple berries.

The gin revolution was underway, and innovation was coming thick and fast. The innovation was about new botanical inclusions, discoveries of ancient recipes and of new distilleries that honoured places, people. Astheye huddled amongst the shaking juniper, bejewelled with berries, it became clear that something core to gin had never been fully revealed. In that chilly Aladdin's cave was something bright, complex, glittering – the true essence of gin.

JUNIPER SHOULD TASTE AS ALIVE IN THE GLASS AS IT IS ON THE HILL.

To capture the true taste of juniper, they had to rethink every stage of the gin-making process. They knew that while conventional distillation is magnificent at smoothing and cleaning the spirit, it can destroy delicate flavours because it occurs at 80 degrees, when long chain molecules degrade – or to put it simply, cook. This required them to go beyond conventional distillation into the realms of vacuum distillation, supercritical extraction, ultrasonics and other high-precision flavour techniques.

A tremendous stroke of luck happened in the autumn of 2014: Chris Garden, the super-star distiller of spirits stars Sipsmith moved North to Newcastle to where his wife's family lived. Valentine, moving at his legendary kingfisher attack-speed, got in touch. Chris was soon pushing through the juniper stands, and having declared he would never make another gin, found the project interesting enough to join. Nobody has longer experience in small-batch distilling than Chris in the UK, his participation embedded huge expertise at the core of our operation.

What Nick and Valentine wanted to create was straightforward: a celebration of juniper, surrounded by a supporting harmonic chorus of flavours and aromas that cast our juniper soloist at her brightest, her richest and most complete. Straightforward on the page, complex in the volatile realness of the Hepple. Research on their first product took over two years. Each ingredient, chosen by the foraging master Valentine, had to be tested throughout its growing season, run through different systems with different preparations.

The result, in October 2015 was the release of Hepple Gin. In making the gin, they found that it required a great deal from their more esoteric techniques: most of our flavour comes through from these, rather than the copper pot still (as pretty as it is). It takes five times longer to make Hepple Gin than a conventional gin, but, they must do it to do what was set out to do. Since release Hepple have won a raft of acclaim from the olympians of the spirits world, a double gold at San Francisco in 2017, a five plus star review from Diffords, and the growing choice of gin in a martini and other cocktails from London to New York, Hamburg to Singapore.


| | |
| --- | --- |
| Producer | Moorland Spirits Company |
| Style | Classic Gin |
| Volume | 70cl |
| ABV | 45% |