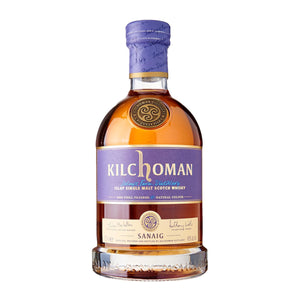 Tasting Notes for Kilchoman Sanaig
Nose: Fragrant heather, raisins, pear and orange peel with waves of stoned fruits, mixed spices and rich peat smoke.
Palate: Over ripe plums, red cherries and hints of citrus give way to rich barbeque peat smoke, toffee, oak and dark chocolate.
Finish: Mouth-coating mixed fruit, caramel, cinnamon and clove with layers of brown sugar, spices, peat smoke and lasting sweetness.
Named after an inlet on Islay's rugged Atlantic coast, Sanaig is a beautiful marriage of bourbon and sherry cask maturation. The high proportion of Oloroso sherry influence adding a balance of dried fruits and spices to classic Kilchoman citrus sweetness and peat smoke character.

A family run business established by Anthony and Kathy Wills in 2005, Kilchoman was the first distillery to be built on Islay in over 124 years, and when it was established, it was also the smallest distillery in the whole of Scotland. Located at Rockside Farm in the west of the island, Kilchoman is Islay's only farm distillery, producing Scotland's only Single Farm Single Malt. By farm distillery and Single Farm Single Malt, we mean that everything from the grown barley, malting, distillation, maturation and bottling is done at the distillery.

A family run business, established by Anthony and Kathy Wills in 2005, Kilchoman was the first distillery to be built on Islay in over 124 years, and when it was established, it was Scotland's smallest. Located at Rockside Farm in the west of the island, Kilchoman is Islay's only farm distillery, producing Scotland's only Single Farm Single Malt. By farm distillery and Single Farm Single Malt, we mean that everything from the grown barley, malting, distillation, maturation and bottling is done at the distillery.

Farm distilleries were by their very nature always self-sufficient and, while that is difficult these days with global demand for whisky on the rise, Kilchoman continues to try to stay true to that original model. Despite soaring demand for their critically acclaimed whiskies, 25% of its barley requirements come still come from the fields surrounding the distillery in Islay. It has two small malting floors and kilns which produce a medium-peated malt – the heavily peated with which it is mixed comes from Port Ellen. Inside the distillery, fermentation is long, helping to create fruitiness to balance the shoreline/shellfish-like phenolics, while an enlightened (and pricey) wood policy has seen a high percentage of first-fill ex-Bourbon and ex-Sherry casks being used. The result is that Kilchoman has hit the start of its mature period at a remarkably young age.


| | |
| --- | --- |
| Producer | Kilchoman Distillery |
| Style | Islay Single Malt Scotch Whisky |
| Age | No Age Statement |
| Volume | 70CL |
| ABV | 46% |