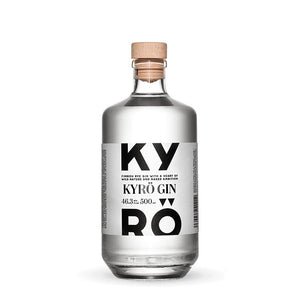 Tasting Notes for Kyrö Gin
Nose: Herbal and sweet, essentials oils of meadowsweet and gentle coriander.
Palate: The palate adds more floral and perfumed qualities, Parma Violets and a touch of rich heather, among bolder kicks of spice, which include a little cinnamon. Some marzipan icing develops with tinges of fresh lemon.
Finish: Pepper of rye, acidity of cranberry and tannins of birch.
Overall: An impressively mature, understated gin, reminiscent of classic styles.
Kyrö gin (formerly Napue gin) is inspired by wild nature and flavours of Finland. The scent of a Finnish meadow is captured in its botanicals - meadowsweet, sea-buckthorn, cranberries, and birch leaves. The rye gives a little touch of heat and spice to the mix, blending with the herbal character. It is full-bodied and sweet, and makes an amazing Gin and Tonic. Kyrö was even named the best gin for Gin and Tonic in the world at the International Wine and Spirits Competition in 2015. Enjoy your Kyrö Gin & Tonic with plenty of ice, a few cranberries, a sprig of rosemary and Fever Tree Indian Tonic.

The Kyrö starts with a group of friends having a sauna and drinking rye whisky, and they began to ponder why nobody was making rye whisky in Finland. Surprisingly, the idea of starting their own distillery still seemed like a good one the following morning and from there, the journey of Kyrö began.

In search for a home for the distillery, the founders first visited a family farm in Isokyrö, but although charming, it didn't quite live up to their ambitious plans. Then on their way to a planning session (read: dinner and drinks), they noticed an old dairy that happened to be empty—or actually it was filled with cars as the old dairy workers had leased it as a garage to maintain the building.

The teams first ever distillation was done when head distiller Kalle's parents went for a vacation, and part of their house was swiftly turned into a fermentation hall. In a week there was mushy distillers beer and a smell that would later become very familiar to all. The closest proper pot still was hundreds of kilometres away in Finland's first craft whisky distillery in Beerhunters, Pori. They were kind enough to let the team use their still for their first batch, provided that it was transported there by themselves.

The end result of the first distillation was a clear liquid that smelled and tasted like moonshine. It was impossible to say whether it would make good rye whisky. To get feedback, Miika decided to smuggle a sample to The Whisky Show in London. He poured drams in the gents toilet for tasting and went from stand to stand. The new make gained praise.

In 2014 the stills were heated up for the first time at the old dairy and the first drinks were served in "Tourism Agency of lsokyrö", a pop-up speakeasy bar in Helsinki. It was always full of two customer groups: founders' friends and confused elderly people. ‏‏Once the first batch of whisky was quietly resting in barrels, the boys realised, it may be important to have something else to sell while waiting. So they made a gin. Turned out the gin was quite good. In 2015, when Miika was cycling in Estonia, he received a phone call saying

"We know nothing about your distillery, but your gin has been selected as the best gin for Gin & Tonic. We suggest you prepare before the award goes public."

They prepared. And sold out in two days.

Today the Kyrö distillery has grown from a wild dream to a craft powerhouse with skill and capacity — and pretty good spirits. Always made from 100% rye. It all started with rye whisky in the sauna and rye remains at the very core of Kyrö Distillery. It may be the hardest grain to distill due to its temperament, but they still only ever use Finnish wholegrain rye in Kyrö products — be it whisky, gin or liqueur.

| | |
| --- | --- |
| Producer | Kyrö Distillery Company |
| Style | Modern Gin |
| Volume | 50cl |
| ABV | 46.3% |