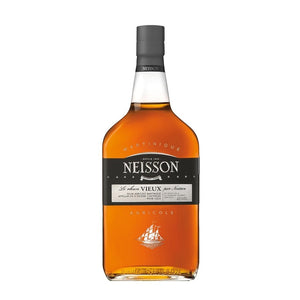 Tasting Notes for Le Rhum Vieux par Neisson
Nose: Nice balance on the nose dominated by an elegant woody note that reveals aromas of fruit, vanilla and honey.
Taste: Plentiful cane which leaves just enough space for the exquisite expression of exotic and fruity notes, all supported by a background of oak.
Finish: Moderately long and very smooth with a nutty hint.
Overall:  French Oak and Agricole rhum just works so well together. 
Since its creation in 1931, the Neisson distillery has preserved the purest tradition Martinique agricole rum. A grain to glass operation, Neisson control their entire production and their rhum is made to Appellation d'Origine Contrôlée (AOC) guidelines.

Le Rhum Vieux par Neisson was released to celebrate the 85th anniversary of the small Neisson distillery, and revisits the range which made its reputation for many years. Le Rhum Vieux par Neisson, an aged version of Le Rhum par Neisson, is made from pure juice of freshly squeezed sugar cane, an almost typically French exception in this world where most rums are made from molasses. After distillation, the rhum is matured in a combination of French Limousin oak casks and American ex-bourbon barrels for between 3 to 9 years. The result is a perfect example of an AOC Martinique aged agricole rhum, with a nice balance between the fruitiness of sugar cane, honey and the vanilla / spicy / tannic notes introduced through the aging process.


Born in 1932 during the interwar period, on a twenty hectare property acquired by the two Pamphile brothers, Neisson has remained a family business. Of the two brothers, Adrien started the distillation business on the island, while Hildebert, known as Jean Neisson, continued his studies in chemistry on the continent. He then created an import-export company, with the aim of selling the family's rum in Europe. At the start of the 1950s, Jean Neisson traveled to Martinique and his participation there took on even greater importance in his life. In 1952, he designed the now recognizable square-shoulder bottle 'and had a Savalle column installed, the performance of which he himself improved. Following the death of his brother in 1971, Jean Neisson returned to settle on the island, in order to pass on his knowledge to his nephew, who is none other than Grégory Vernant, the current master distiller. However, Jean also disappears, before his "apprentice" is old enough to take over the distillery. It was then the sister of Jean Neisson, who would take care of it until her death in 1995, then partnering with a master distiller, so as not to abandon production. Another lady then takes over, Claudine Neisson, daughter of Jean, putting aside her career as a biologist to devote herself fully to rum.

The smallest distillery on Martinique, and the last family-owned distillery on the island of Le Carbet, Neisson resembles a complex kaleidoscope of green and pink houses, as if they were trying to imitate the luscious surrounding vegetation. Three generations have succeeded one after the other at the head of the distillery, preserving the skills and expertise of the greatest Martinique tradition. Grégory Vernant-Neisson, in his early forties and currently at the head of the distillery, describes their Martinique Agricultural Rum AOC: "The most important thing to understand about Martinique rum from is that it's produced directly from sugar cane juice, and not molasses." Behind the Neisson philosophy lies a great respect for the value of the land and its properties.

Martinique, with its volcanic soil and climate (particularly in the north of the island where the distillery is located) has a particularly strong influence on the aromatic palette of Neisson Rums and their unique flavours. Neisson owns forty hectares in the municipality of La Carbet, and processes only the cane from his plantations, where they seek to cultivate three non-hybrid sugar cane varieties: the malanoi, the rubanée and the crystalline. The sugar cane harvest (and hence production schedule) lasts from February to late June meaning the distillery produces rhum on a limited basis, with barely 400,000 litres released each year. The slow fermentation of pure cane juice lasts 72 hours, the longest in all the French Antilles, uses their own two strains of yeast which are the result of extensive research into varieties naturally present in the biotope, further developing a unique aromatic range for Neisson rhums.

| | |
| --- | --- |
| Producer | Distillerie Carbet Neisson |
| Style | Rum |
| Age | No age statement |
| Volume | 70CL |
| ABV | 45% |