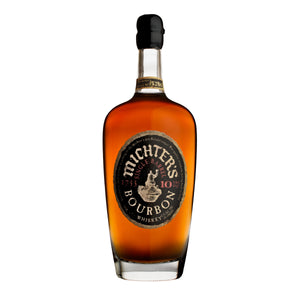 Tasting Notes for Michter's 10 Year Old Single Barrel Bourbon
Nose: Complex, with sweet spice, rich dried fruit and a touch of menthol. Then candied fruit and gutsy earthy notes appear.
Palate: Superbly balanced – a big whack of rich dried fruit comes first, followed by sweet spice from the oak, all underpinned by an earthy, peppery dryness.
Finish: Rich, powerful and complex, with a spicy kick. Impressive.
This collectible bourbon is from Michter's, a small producer with a cult following amongst bartenders and whiskey connoisseurs. The 10 Year Bourbon is bottled from a single barrel and released in small quantities each year.

The "Best American Whiskey" according to Food & Wine magazine, Michter's 10 Year Single Barrel Bourbon represents the culmination of over a decade of patient aging in specially chosen, American white oak barrels which have been air dried for 18 - 36 months before being charred. It is big and bold, with dark toffee and caramel, charred oak, maple syrup and vanilla.

Originally known as Shenk's and later as Bomberger's, this whiskey company ultimately became known as Michter's. It was founded by John Shenk in Schaefferstown, Pennsylvania, in 1753. In the mid-1800s, Pennsylvania Dutchman Abraham Bomberger bought the distillery and it was then known for many decades as Bomberger's. After changing hands many times over the course of Prohibition, eventually Lou Forman created the Michter's brand name by combining his sons' names, Michael and Peter. Though sadly, the distillery closed in 1989 due to bankruptcy.

However, Michter's prevails! Joseph Magliocco and Richard Newman joined forces, both men with a passion for whiskey. After filing for the abandoned Michter's trademark, they planned to resurrect Michter's in the heart of the modern American whiskey industry, Kentucky.

Their current historic Fort Nelson site was first built in 1890 and purchased by Michter's in 2012, after years of restoration the site opened to the public in February 2019. As well as their Fort Nelson site, the company owns Michter's Shively Distillery in Louisville, as well as its 145-acre farm in Springfield, Kentucky.

| | |
| --- | --- |
| Producer | Michter's |
| Style | Straight Bourbon |
| Age | A minimum of 10 years |
| Volume | 70CL |
| ABV | 47.2% |