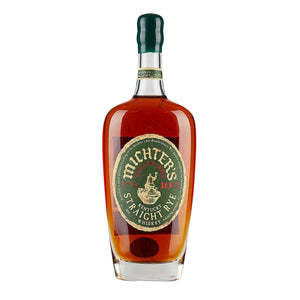 Tasting Notes for Michter's 10 Year Old Single Barrel Kentucky Straight Rye
Nose: A bouquet of orange zest, rye spice, and toffee. Well balanced with a bit of heat, along with lingering notes of oak and a touch of Granny Smith apples.
Palate: The first sip finds flavors reflective of the nose. Medium bodied with some big rye spice and orchard fruit right up front. 
Finish: Long finish is accentuated by a heavier presence of oak and leather.
One of the most limited whiskeys from Michter's, a small producer with a cult following amongst bartenders and whiskey connoisseurs. The 10 Year Kentucky Straight Rye is bottled from a single barrel and released in small quantities each year. Michter's 10 Year Single Barrel Kentucky Straight Rye continues the legacy of America's first whiskey variety - rye.

"I just love Kentucky style rye because it has not only great spice, but also the richness and the balance that comes from having a fair amount of corn and malted barley in the mashbill. And I think the 2020 release of our 10 Year Rye is an outstanding example of Kentucky style rye," - Michter's Master Distiller Dan McKee

"There is nothing quite like really good rye distillate that's been aged with thoughtful care for over a decade in a barrel that was toasted and then charred and in a warehouse that has been heat cycled to produce a deep, rich flavor profile perfect for sipping," - Michter's Master of Maturation Andrea Wilson

Originally known as Shenk's and later as Bomberger's, this whiskey company ultimately became known as Michter's. It was founded by John Shenk in Schaefferstown, Pennsylvania, in 1753. In the mid-1800s, Pennsylvania Dutchman Abraham Bomberger bought the distillery and it was then known for many decades as Bomberger's. After changing hands many times over the course of Prohibition, eventually Lou Forman created the Michter's brand name by combining his sons' names, Michael and Peter. Though sadly, the distillery closed in 1989 due to bankruptcy.

However, Michter's prevails! Joseph Magliocco and Richard Newman joined forces, both men with a passion for whiskey. After filing for the abandoned Michter's trademark, they planned to resurrect Michter's in the heart of the modern American whiskey industry, Kentucky.

Their current historic Fort Nelson site was first built in 1890 and purchased by Michter's in 2012, after years of restoration the site opened to the public in February 2019. As well as their Fort Nelson site, the company owns Michter's Shively Distillery in Louisville, as well as its 145-acre farm in Springfield, Kentucky.

| | |
| --- | --- |
| Producer | Michter's |
| Style | Kentucky Straight Rye |
| Age | A minimum of 10 years |
| Volume | 70CL |
| ABV | 46.4% |