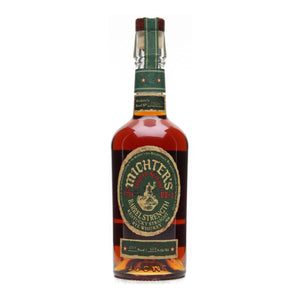 Tasting Notes for Michter's US*1 Barrel Strength Rye
Nose: Thick and rich, with black treacle, black pepper, freshly varnished decking and gentle spice – much less overt spice than you'd expect from a rye.
Taste: Remarkably mellow to start, despite the strength. Buttered toast and brown sugar sit at the front of the palate, but once you are past those, the barrel strength and rye spice make themselves known. Cinnamon and clove roll in, with intense fruitiness and chocolate.
Finish: Long and spicy ending, with a touch of mint hanging around after everything else has gone.
Since the 1990's, the Michter's team has been doing pioneering work to re-establish the high quality American Rye whiskey category. The May 2015 inaugural release of Michter's US1 Barrel Strength Rye marked yet another milestone in that quest.

For maturation, the Rye distillate is entered into the barrel at 103 proof, rather than a more industry standard higher proof. Barrel entry at a lower proof of 103 rather than a higher proof costs Michter's more money in terms of barrels and warehousing, but they believe it yields a richer, smoother, more full-bodied whiskey after proper maturation.

A single barrel product, each barrel of Michter's US*1 Barrel Strength Rye is bottled at its particular alcohol level at the time of bottling. The majority of barrels in the releases range from 107 to 112 proof, with this particular release bottled at 110.2 proof, or 55.1% ABV.


Originally known as Shenk's and later as Bomberger's, this whiskey company ultimately became known as Michter's. It was founded by John Shenk in Schaefferstown, Pennsylvania, in 1753. In the mid-1800s, Pennsylvania Dutchman Abraham Bomberger bought the distillery and it was then known for many decades as Bomberger's. After changing hands many times over the course of Prohibition, eventually Lou Forman created the Michter's brand name by combining his sons' names, Michael and Peter. Though sadly, the distillery closed in 1989 due to bankruptcy.

However, Michter's prevails! Joseph Magliocco and Richard Newman joined forces, both men with a passion for whiskey. After filing for the abandoned Michter's trademark, they planned to resurrect Michter's in the heart of the modern American whiskey industry, Kentucky.

Their current historic Fort Nelson site was first built in 1890 and purchased by Michter's in 2012, after years of restoration the site opened to the public in February 2019. As well as their Fort Nelson site, the company owns Michter's Shively Distillery in Louisville, as well as its 145-acre farm in Springfield, Kentucky.

| | |
| --- | --- |
| Producer | Michter's |
| Style | Barrel Proof Rye Whiskey |
| Age | No Age Statement |
| Volume | 70CL |
| ABV | 110.2 proof (55.1% ABV) |