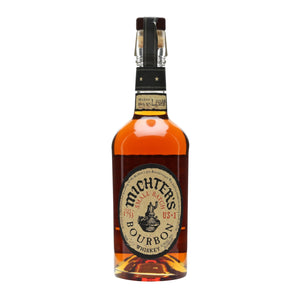 Tasting Notes for Michter's US*1 Small Batch Bourbon
Nose: Appealingly rich notes of barley sugar, raisins and dried fruit, with a balancing touch of fennel seed and baked bread.
Taste: Rich and spicy, with juicy fruit, cinnamon and clean, well-defined flavours.
Finish: Welcoming kick of black pepper, then the dried fruit stays strong.
Hailing from Louisville, Kentucky Michter's is one of the oldest distilleries in the States. Their Master Distiller, Willie Pratt, has been in and around the Whiskey industry for over forty years, he is lovingly referred to as Dr. No as he will never allow any casks to be released or bottled until they are just right meaning these Bourbons are typically aged longer than other producers would otherwise age theirs.

Produced in very small batches, typically twenty-four barrels or fewer per batch and aged for around eight years, Michter's US*1 really is a great Bourbon. Teasing with caramel, vanilla and dried fruit notes, this is a very pleasant drink to both spend time with and to enjoy through the night.

Originally known as Shenk's and later as Bomberger's, this whiskey company ultimately became known as Michter's. It was founded by John Shenk in Schaefferstown, Pennsylvania, in 1753. In the mid-1800s, Pennsylvania Dutchman Abraham Bomberger bought the distillery and it was then known for many decades as Bomberger's. After changing hands many times over the course of Prohibition, eventually Lou Forman created the Michter's brand name by combining his sons' names, Michael and Peter. Though sadly, the distillery closed in 1989 due to bankruptcy.

However, Michter's prevails! Joseph Magliocco and Richard Newman joined forces, both men with a passion for whiskey. After filing for the abandoned Michter's trademark, they planned to resurrect Michter's in the heart of the modern American whiskey industry, Kentucky.

Their current historic Fort Nelson site was first built in 1890 and purchased by Michter's in 2012, after years of restoration the site opened to the public in February 2019. As well as their Fort Nelson site, the company owns Michter's Shively Distillery in Louisville, as well as its 145-acre farm in Springfield, Kentucky.

| | |
| --- | --- |
| Producer | Michter's |
| Style | Bourbon |
| Age | No Age Statement |
| Volume | 70CL |
| ABV | 45.7% |