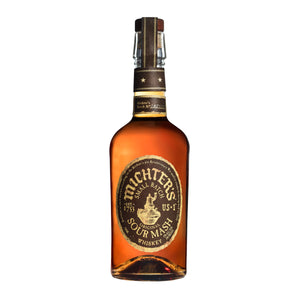 Tasting Notes for Michter's US*1 Sour Mash American Whiskey
Nose: Enticing aromas of dried fruit and freshly baked bread, but poised and focused.
Taste: Rich dried fruit, generously spiced with cinnamon and nutmeg, like a turbocharged Dundee cake.
Finish: Well balanced, with the rich fruit standing up to the spice.

Michter's Original Sour Mash was their most popular product during the 1970s and 80s, and now it's back with a vengeance. Joining their US*1 line in 2012, this Whiskey stays true to the profile and palate of its predecessor. Michter's dubbed its champion after the Spirit's production process, in which previously fermented mash is used as the starter for the new batch. Like making sourdough bread, except better. Because it's Whiskey.

Although its unique grain selection prevents it from being categorized as Bourbon or Rye, it doesn't stop Michter's US*1 Sour Mash from starting off like the former and finishing like the latter. It's Michter's way of masterfully pushing their mash bill envelope right to the edge of the Rye realm, without tipping over. Great to sip on its own, Sour Mash Whiskey is also perfect for a Bourbon based cocktail or a BBQ sauce ingredient to pour over your chicken on a hot summer's day.

Originally known as Shenk's and later as Bomberger's, this whiskey company ultimately became known as Michter's. It was founded by John Shenk in Schaefferstown, Pennsylvania, in 1753. In the mid-1800s, Pennsylvania Dutchman Abraham Bomberger bought the distillery and it was then known for many decades as Bomberger's. After changing hands many times over the course of Prohibition, eventually Lou Forman created the Michter's brand name by combining his sons' names, Michael and Peter. Though sadly, the distillery closed in 1989 due to bankruptcy.

However, Michter's prevails! Joseph Magliocco and Richard Newman joined forces, both men with a passion for whiskey. After filing for the abandoned Michter's trademark, they planned to resurrect Michter's in the heart of the modern American whiskey industry, Kentucky.

Their current historic Fort Nelson site was first built in 1890 and purchased by Michter's in 2012, after years of restoration the site opened to the public in February 2019. As well as their Fort Nelson site, the company owns Michter's Shively Distillery in Louisville, as well as its 145-acre farm in Springfield, Kentucky.

| | |
| --- | --- |
| Producer | Michter's |
| Style | Sour Mash American Whiskey |
| Age | No Age Statement |
| Volume | 70CL |
| ABV | 43% |