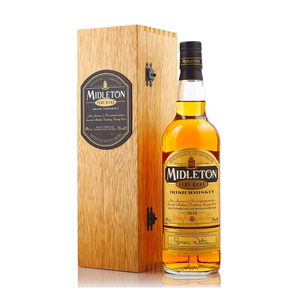 Midleton Very Rare Tasting Notes
Nose: Vibrant fruity aromas of apricots, pineapple, red apples, stem ginger, marzipan and fruit bread. A second nosing reveals some spicy notes of clove, crystallised ginger, candied orange peel, pineapple and dried apricots.
Taste: Richly flavoured, beginning with sweet, orange citrus and pineapple then quickly becomes quite peppery and spicy with flavours of cloves, ginger, cinnamon, vanilla.
Finish: Great length with the complex flavours continuing to evolve all the way to the finish.
The story of Midleton Very Rare began with one man's vision. The man was Barry Crockett, the Master Distiller at Midleton who was charged with the daunting task of reviving the fortunes of the once world dominating Irish Whiskey industry. At a time when Irish Whiskey sales were at an all time low, Barry Crockett decided to create a showcase for the best Irish Whiskey had to offer. In 1984 the first edition of Midleton very rare was released, consisting of hand picked casks of pot still whiskeys aged 12 to 25 years blended with grain whiskey aged up to 31 years. The result was the world's first premium blended whiskey, produced years before any other distillery in the world released anything comparable, and aimed not at the mass market but at those who can appreciate a highly distinguished liquid. Needless to say, Midleton Very Rare has since picked up the highest awards in the World's most prestigious competitions year after year.




A new edition of Midleton Very Rare has been released every year since 1984, each with a different character depending on the casks selected by the Master Distiller. Only 50 casks are hand picked to create the Master Distillers vision of the perfect blended whiskey, and every bottle is individually numbered and signed by it's creator.




Midleton Very Rare 2015 has been hand picked by our team as our first offering from the Midleton Very Rare range to the Singapore public. It stands out as our favourite among the recent releases due to it's robust, yet silky smooth flavour profile, with a higher amount of spice and oak flavours than previous or subsequent years. As the name implies, Midleton Very Rare is just that, very rare. With the limited number of casks released each year and a world-wide fan base, these whiskeys sell out fast! We consider ourselves lucky to have gotten hold of these few bottles of the 2015 release, so do enjoy them while stocks last!

Midleton Very Rare is consistently awarded the highest honours at the world's most respected whisky awards. Here are some recent ones:

San Francisco World Spirits competition: Best Blended Irish Whiskey 2017

Irish Whiskey Awards: Best Blended Irish Whiskey 2015, 2016

San Francisco World Spirits competition: Double Gold Medals (unanimous decisions) 2005 and 2007

Midleton distillery was founded in 1825, when 3 brothers from Cork took ownership of a building next to the Dungourney River in Midleton, Co. Cork. They expanded the distillery by constructing a huge 31,618 gallon Pot Still (approx. 140,000L) in 1827. This Pot Still was so large that the distillery had to be built around it and is still largest pot still the world has ever seen. (You can still find it sitting outside the Old Midleton Distillery where Irish Distillers host their Jameson Experience.)

The distillery survived the turmoil of the mid-nineteenth century Ireland which included the great famine and temperance movements which reduced domestic demand for whiskey and so in the 1860s, James Murphy (head of the company, and son of the one of the founders), suggested amalgamating the operations of several local distilleries. The other distilleries agreed, so in 1867, Cork Distilleries Company (CDC) was formed, with Murphy at the helm. In the 1860's the company was reported to have an output in excess of 1,000,000 gallons per annum, and to produce a whiskey known as "The Cork Whisky Make". In later years, whiskey from the distillery was known as Cork Distilleries Company Old Irish Whisky, before becoming known as simply "Paddy".

In the 1860's there were 28 distilleries in Ireland, but by 1960 there were only 3 distilleries producing full time in Ireland (bushmills is arguably a fourth, but had extended shut down periods during this time). The 3 remaining distilleries of John Jameson and Son, John Powers and Son and Cork Distilleries Company merged becoming Irish Distillers and closed the door of the famous Old Midleton Distillery for final time. A brand new state-of-the-art distillery was built right next door and is currently Ireland's largest distillery, producing many of the brands we know and love. The Old Midleton distillery is still around today, and if you are every in the Cork area you can visit it in it's new guise as the Jameson visitor centre.

In 1984 Irish Distillers introduced a new premium brand under the Midleton name. Designed to showcase the pinnacle of the art of Irish whiskey making, it has found fame and acclaim the world over. More recently, two additional whiskeys have been introduced bearing the Midleton name; the Single Pot Still, Midleton Barry Crockett Legacy - a testament to the former master distiller who did so much to ensure the survival and revival of the Single Pot Still style, and Midleton Dair Ghaelach - designed to showcase the use of virgin Irish Oak combined with Irish Single Pot Still to give a uniquely Irish whiskey experience.

| | |
| --- | --- |
| Producer | Irish Distillers |
| Style | Super Premium Blend of Single Pot Still and Grain Whiskeys |
| Age | No age statement |
| Volume | 70CL |
| ABV | 40% |