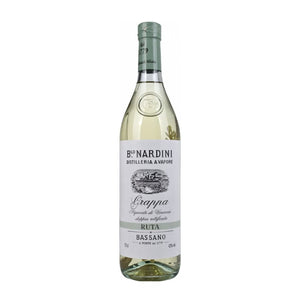 Tasting Notes For Nardini Grappa Alla Ruta
Nose: Floral with herbal fragrance from the rue.
Palate: All the wonderful floral notes from the Nardini Grappa Bianca, intertwined with herbaceous rue.

Finish: Pleasantly dry and herbal finish.
Serving Suggestion: Stunning as an after dinner drink served at room temperature, or as an ingredient for original cocktails.
Nardini's Rue Infused Grappa is an aromatized grappa notoriously appreciated for its therapeutic, digestive and aromatic properties. It's historic recipe consists in infusing rue branches in Grappa Bianca Nardini for over a year, then, so that flavour flows through every sip, a rue sprig is added to every bottle. All this is fantastic, really, as the added depth that comes from the rue gives the Ruta a pleasantly dry finish. As an added bonus, legend has it that rue is known to have the qualities of an aphrodisiac.

The son of Bortolo Nardini and Maria Maddalena Giacomuzzi, Bortolo Nardini was born on May 25, 1739 in Segonzano, in the Cembra Valley, near Trent. In a country where wine is a tradition, it was a widespread practice to distill wine pomace as a source of income and livelihood. At that time, distillers moved from house to house with a mobile still, working as third-party distillers of the pomace deriving from the production of wine. Bortolo Nardini took up this craft, and traveled all the way to Bassano del Grappa, at the end of the valley.

Arriving in Bassano del Grappa, Bortolo Nardini was involved in an accident that forced him to stop in the city. During his convalescence, he had the opportunity to learn more about Bassano and to understand its strategic importance as a commercial crossroads between the Valsugana Valley and Venice. With farsightedness and the tenacious will to turn his vision into reality, he bought the Osteria al Ponte, today called the Grapperia Nardini, to produce grappa with a permanent still and sell it to the public. For the first time it was no longer the distiller with a mobile still going to the farmers, but the winegrowers themselves bringing in the pomace for the production of grappa. Bortolo called his grappa "Aquavite di Vinaccia" (eau-de-vie from grape pomace) spelled in the Latin way without the "c", playing on the etymology that could mean both "water of life" and "water from the vine". The first grappa of Italy was born, Nardini Grappa.

The Nardini family have always been on the forefront of innovation and In the late eighteenth and early nineteenth centuries the distillation of Nardini Grappa took place in 1860 the family introduced a great novelty in the process of distilling the grappa: the steam still. The adoption of steam significantly improved the quality of the grappa compared to stills with a direct flame, preserving the quality of the pomace without burning it. Today it is one of the most common methods used to produce grappa. Further innovations spurred by Nardini have largely shaped the entire Grappa industry, such as the introduction of Grappa Riserva, "Aged in oak casks in the manner of cognac", double rectification which ensures superior purity to the product because it allows a more precise selection of alcohols, thus improving the quality of the final result, vacuum steam distillation and most recently, Single Cask Grappa.

Since 1779, Nardini has always been a family-run company, a member of the exclusive Les Henokiens club of bicentenary family companies. A life dedicated to exalting the territory, the birthplace of a product treasured even today, more than two centuries later. Today, the 7th generation continues the family tradition and spreads the culture of an Italian icon in the world: Nardini Grappa.

| | |
| --- | --- |
| Producer | Nardini |
| Age | No age statement |
| Volume | 70cl |
| ABV | 43% |