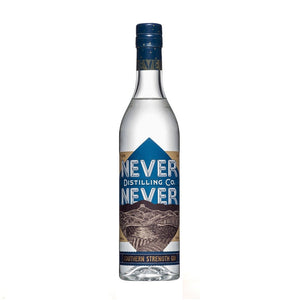 Tasting Notes for Never Never Southern Strength Gin
Aroma: Fragrant pine mingling with bright citrus and earthy angelica. Coriander seed elevates the citrus character.
Taste: Oily, viscous and immediately savoury. Juniper still dominates, however is complimented with earthy notes of angelica root and coriander seed.
Finish: Rich and robust, with pepper berry spice and cinnamon warmth developing late.
A southern strength (new to us too) expression of the Never Never Triple Juniper process, made in the same way as the distillery's Triple Juniper Gin, but bottled at a robust 52% ABV. Juniper finds its way into the gin in three ways - it steeps in the spirit for 24 hours, fresh juniper is added when the spirit is redistilled, and juniper sits in the vapour basket in the still too. This savoury overproof expression of the Triple Juniper style is achieved by elevating the angelica root, coriander seed and lemon character, while keeping other botanicals at the same level as Triple Juniper. 5 other botanicals also appear in the gin, including Australian pepper berry and cinnamon.

Do note that medium level of clouding occurs when mixed due to elevated botanical oils.

World's Best Classic Gin – World Gin Awards 2019

Double Gold – Singapore World Spirits Competition 2019

Gold – San Francisco World Spirits Awards 2019

Best Gin in Show Trophy – Australian Gin Awards 2019

Best Classic Gin Trophy – Australian Gin Awards 2019

Founded in 2016 by three friends, George Georgiadis, Tim Boast and Sean Baxter, this distillery set out to shake up the Australian spirits industry, drive innovation, embrace adventure and to harness the fearless spirit required to go where none have been before.

Juniper is at the heart of all Never Never gins and they distil their juniper in three ways using our triple juniper method:

1. Juniper is steeped in the spirit for 24 hours.

2. Fresh juniper is added to the spirit from step 1, and it's then distilled in a pot still.

3. Juniper is added to the vapour basket of the still.

Their still of choice is a 300L copper pot, heated with a pressurised water-filled stainless-steel jacket and electric elements, ideal for a small start-up. Equipped with flexible 5-plate rectification column and gin vapour basket. This gives flexibility in terms of what can be created. After extensive sampling and comparative blind tastings, the selection went to a wheat-based spirit, which is a little different for a SA distiller.

It is with these values and methodology that set Never Never Distilling Co. apart from the crowd and they have quickly become recognised far and wide as being fearless with flavour – picking up a number of accolades along the way. One of which includes winning the World's Best Classic Gin with their Southern Strength Gin at the World Gin Awards 2019.

FROM THE NEVER NEVER

The spirit of adventure is inspired by the Never Never - the vast Australian expanse beyond the horizon. To step in to the Never Never is to journey in to the unknown.


| | |
| --- | --- |
| Producer | Never Never Distilling Co |
| Style | Australian Southern Strength Gin |
| Volume | 50cl |
| ABV | 52% |