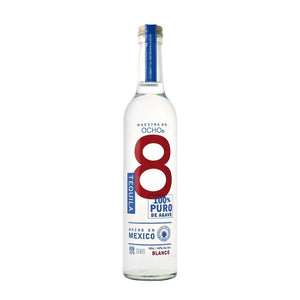 Tasting Notes for Ocho Blanco Tequila
Aroma: The aroma is complex and inviting with plenty of herbal agave followed by notes of waxy florals, marzipan, and a hint of citrus.
Taste: The mouth-feel is rich and creamy with exotic fruit up front — black plum and lime — with black peppercorn and mixed woods.
Finish: The finish is pleasantly long with a blooming pepper warmth.
A single estate-grown, 100% Blue Agave Tequila range, Ocho is a collaboration between Tomas Estes (the man credited with bringing the first bottle of Tequila to Europe) and renowned distillers, the Camarena family. The concept behind Ocho is terroir - the idea that climate, soil, topography and other plants grown in the vicinity, will influence the taste of agave and tequila which it is used to make. For this reason, each bottle of Ocho tequila bears a 'vintage' which signifies the exact year or harvest and location of the Agave plants that the spirit was derived from, under-lining the finely balanced relationship between the terroir and quality of raw materials.

Made through a traditional slow cooking process - the pinas are brick oven cooked for a total of 72 hrs. The early juice is removed, due to containing bitterness. Roller/shredder milling takes place followed by fermentation in open air small wooden vats of pine, using natural yeast that takes almost 7 days to complete. Distillation follows in stainless pot stills followed by the second distillation in small copper pots. The second distillation is done at 48% ABV and then brought back down to 40% using demineralized water, ensuring a high concentration of agave flavor. Eight days are needed from when the agaves reach the patio at the distillery until it becomes blanco (unaged) tequila. Ocho Reposado is aged for 8 weeks and 8 days.

Ocho tequila is one of the real ground-breaking tequila brands, and currently one of the world's best-selling due to its high quality and reasonable price point. Set up in 2008 as a joint venture between legendary restauranteur Tomas Estas, (who reportedly imported Europe's first bottle of tequila in the 1970's), and renowned third generation tequilero Carlos Camarena, who is Master Distiller at La Alteña distillery in Jalisco, Mexico.

The idea behind Ocho is the application of terroir – a concept previously only known to the wine world - where the climate, soil, topography and other plants grown in the area will influence the taste of agave and tequila which it is used to make. This does make a lot of sense, after all, grapes only spend a year growing in the same patch before harvest, but Blue Agave spend 8 years before reaching maturity.

Each batch of Ocho is made as a single estate origin, meaning that the year and location where the agave was grown and harvested is labelled on the bottle. This also means that each batch is unique as other batches will use agave grown in different fields, under different conditions and the resulting tequila will not taste the same. This is both a blessing and a curse - for those who love variety it really is a wonderful thing, but it does create difficulties for those who want to commercialize a single uniform product which will taste the same each time.

All this talk of terroir would mean nothing if the good folks behind Ocho weren't interested in producing quality products, and Carlos Camarena really does have a great track record in this regard and has even won medals presented directly by the Mexican president for services to tequila.

At his La Alteña distillery, they keep as much to tradition as possible - the pinas are brick oven cooked for a total of 72 hrs (48 hours cooked) then sits in the oven for an additional 24 hours for cooling. The early juice is removed, due to containing bitterness. Roller/shredder milling takes place followed by fermentation in open air small wooden vats of pine, using natural yeast that takes almost 7 days to complete. Distillation follows in stainless pot stills followed by the second distillation in small copper pots. The second distillation is done at 48% ABV and then brought back down to 40% using demineralized water, ensuring a high concentration of agave flavor.

Why "Ocho" ? (that's eight in English). This tequila is made from the eighth sample created by the Camarenas for Tomas Estes It takes an average of eight years for the agaves to ripen before being harvested. About eight kilograms of agave are needed to make one liter of Ocho tequila – very high versus industry average. Eight days are needed from when the agaves reach the patio at the distillery until it becomes blanco (unaged) tequila. Ocho Reposado is aged for 8 weeks and 8 days.

| | |
| --- | --- |
| Producer | La Alteña distillery in Jalisco, Mexico. |
| Style | Single Estate Blanco Tequila |
| Volume | 50cl |
| ABV | 40% |