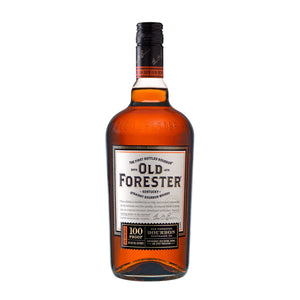 Tasting Notes for Old Forester 100 Proof Kentucky Straight Bourbon
Nose: Strong, sweet coffee laced with chocolate, creamy butterscotch and a hint of liquorice.
Taste: Ripe apple and other sweet fruit, bakery spice (clove and nutmeg), and toasted oak.
Finish: Sweet and light, with hints of oak and apple that linger a bit.
The Old Forester Signature is the grandson of the once beloved Old Forester Bottled in Bond; the Signature's 100 proof bottling being a nod to that once classic dram. As a brand Old Forester has been around for over 140 years. They were one of the few brands that managed to grab a license to distill "medicinal" whiskey which means it's not only been around for 140 years, but it can claim an unbroken history of distillation that entire time. The mash bill for pretty much all Old Forester Bourbons is 72% corn with 18% rye and 10% malted barley, and this version is no different.

They tell us Old Forester Signature Bourbon is a bartender's favorite as its one hundred proof works wonderfully well in cocktails, but in reality that extra abv translates into extra flavour, and Old Forester 100 Proof Kentucky Straight Bourbon is definitely a notch above the classic version

San Francisco World Spirits Competition: Double Gold - 2020

International Spirits Challenge: Gold Medal - 2019

Old Forester was founded by George Garvin Brown in 1870 when he created the first bottled bourbon, Old Forester, in 1870. Old Forester is created by George Garvin Brown and named after Dr. William Forrester, who was a famour field doctor at the time. To guarantee consistency George batches bourbon from three nearby distilleries: Mattingly, Mellwood, and Atherton. He seals his whiskey exclusively in glass bottles and signs each bottle as his personal guarantee of its quality.

The U.S. Bottled in Bond Act of 1897 required that bourbon come from one distillery and one distilling season, George Garvin Brown purchases the Mattingly Distillery in 1901.

In 1910, a fire on the bottling line shut down production. Old Forester, which had been dumped and was ready to bottle instead went into a second barrel while the line was repaired. Leading Old Forester to create and sell "Very Old Fine Whisky" the first double-barreled bourbon. The distillery survived the prohibition years when it was granted one of only 10 licenses to produce medicinal whisky, and during the second world war, contributed to the war effort by converting 100% of it's production to industrial ethanol.

The distillery is still run by the Brown family to this day, and in Spring 2015, Campbell Brown, 5th generation Brown Family member, was named as the President and Managing Director of Old Forester following in the footsteps of his great-great-grandfather.

What sets Brown-Forman and their brands apart from other distilleries is not only the claim to having the longest running Bourbon on the market today, but also their ownership of their entire whisky production process from the cooperages making their barrels, to the equipment and structures involved in distillation, barrelling, ageing, and bottling their brands. When creating Old Forester consistency is key and achieving the required level depends on several key factors including barrels made to an exact level of toast and char, the use of a proprietary yeast strain, a signature high rye mashbill, heat cycled warehouses, and a large tasting panel that approve every batch after Master Blender Jacky Zykan has done her magic. Old Forester has only had 3 Master Distillers since 1963 which has helped to keep things consistent across the board.

| | |
| --- | --- |
| Producer | Brown-Forman |
| Style | Kentucky Straight Bourbon |
| Age | No age statement |
| Volume | 75CL |
| ABV | 50% |