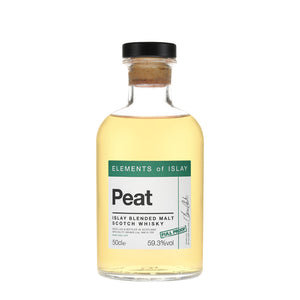 Tasting Notes for Peat - Full Proof - Elements of Islay 
Nose: Fresh, sprightly barley entwined with peat smoke and bonfire embers. Bracing aromas of salty seaweed and seashells. Plenty of clean fruit – lemon, lime and grapefruit, while hiding underneath are notes of rich earth and liquorice.
Palate: Warm and leathery with thick-cut bacon, seashore campfires and roasted fruit: sweet apple and lime with a sprinkle of caster sugar. Layers of smoke and dark-chocolate limes envelope the palate and are intertwined with softer lemon oil and barbecue sauce, with hints of roasted spices and barrel char, complementing the peat and smoke.
Finish: Sea spray and baked apple fade leaving heavier smoke, truffle salt and sweet spice.
After the success of the Elements of Islay range, which takes us on a journey through the Islay's distilleries flavours, Speciality Drinks has decided to introduce a consistent and ongoing bottling: Elements of Islay Peat. Created using whiskies from Islay's most iconic distilleries, each batch is made of around 60 casks carefully selected to showcase Islay's most famous flavour - peat. Bottled at full proof, Peat is the first blended malt in the Elements of Islay range, and a great example of a smoky whisky, with all the full-on coastal character you would expect from an island whisky, as well as balanced sweetness.

Elements of Islay in was launched by Speciality Drinks in 2006 as a way of showcasing the medicinal, almost 'elemental' character of Islay malt whiskies. 'Elemental' is the main theme running through the series and was the inspiration for the laboratory-style bottle and element symbol/number naming system used across the Elements range (Lp1, Ar2, and so on). Coincidentally, even the 50cl bottle used throughout the Elements range is called 'pharmacy'.

It was decided by Speciality Drinks early on that no bottles in the range should carry an age or vintage, as the belief is that the most important element when choosing a whisky is the flavour. Through careful cask selection, over the last 10 years the Elements of Islay series has gained a reputation for bottling Islay whisky regardless of age.

Islay is renowned for creating malt whiskies that drink as well young as they do when they're old. For Elements of Islay, Speciality Drinks have bottled whiskies as young as five years old, and as old as 30. Batches are put together solely with flavour in mind, each one expressing the character of each distillery on Islay.


| | |
| --- | --- |
| Producer | Blended malt from Speciality Drinks made using whiskies from distilleries in the north and south of Islay. |
| Style | Blended Malt Scotch Whisky |
| Age | No Age Statement |
| Volume | 50CL |
| ABV | 59.3% |