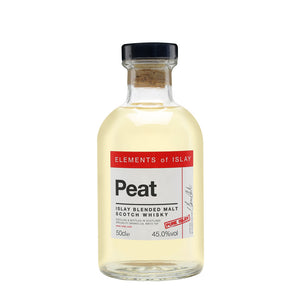 Tasting Notes for Peat - Pure Islay - Elements of Islay
Nose: Orange peel and thick cut bacon with sea shells and smouldering coals.
Palate: Hickory smoke and hints of Lapsang Souchong tea with salted caramel and dark chocolate.
Finish: Sea spray and baked apple fade, leaving heavy smoke, truffle salt and sweet spice.
With the Elements of Islay range, Speciality Drinks exquisitely illustrate the gustative palette of Islay's iconic distilleries. Seeing the success of the permanent edition Peat Full Proof, Speciality Drinks is introducing an ongoing bottling named Elements of Islay Peat Pure Islay, bottled at 45 % ABV.

A blended malt created using whiskies from Islay's most iconic distilleries, each batch is made of around 60 casks carefully selected to showcase Islay's most famous flavour - Peat. An elegant and mellow blended malt offering a sweet alternative to the bold malts already available in the range. Orange zests, Lapsang Souchong tea notes and dark chocolate, the promise is fulfilled.


Elements of Islay in was launched by Speciality Drinks in 2006 as a way of showcasing the medicinal, almost 'elemental' character of Islay malt whiskies. 'Elemental' is the main theme running through the series and was the inspiration for the laboratory-style bottle and element symbol/number naming system used across the Elements range (Lp1, Ar2, and so on). Coincidentally, even the 50cl bottle used throughout the Elements range is called 'pharmacy'.

It was decided by Speciality Drinks early on that no bottles in the range should carry an age or vintage, as the belief is that the most important element when choosing a whisky is the flavour. Through careful cask selection, over the last 10 years the Elements of Islay series has gained a reputation for bottling Islay whisky regardless of age.

Islay is renowned for creating malt whiskies that drink as well young as they do when they're old. For Elements of Islay, Speciality Drinks have bottled whiskies as young as five years old, and as old as 30. Batches are put together solely with flavour in mind, each one expressing the character of each distillery on Islay.


| | |
| --- | --- |
| Producer | Blended malt from Speciality Drinks made using whiskies from distilleries in the north and south of Islay. |
| Style | Blended Malt Scotch Whisky |
| Age | No Age Statement |
| Volume | 50CL |
| ABV | 45% |