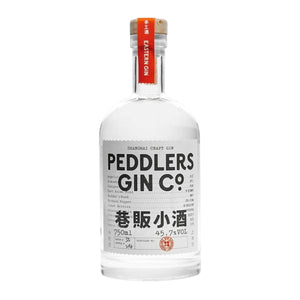 Tasting Notes for Peddlers Shanghai Craft Gin
Nose: pleasantly earthy, with the East Asian mint and citrus from the Buddha's hand coming through as top notes. Sichuan pepper is prominent.

Taste: An initial hit of juniper, then ingredients such as angelica, cinnamon and liquorice begin to rise. The citrus from the Buddha's hand followed by a honey flavour from the Xinjiang almonds combined with coriander, before ending off with spicy Sichuan Pepper.
Peddlers Gin is China's first craft Gin and is inspired by the Shanghai underground, which is a diverse community of creators and artists, merchants and musicians, who continuously push the boundaries of their craft. As such, it is the perfect balance of traditional and contemporary influences.

It is made from eleven botanicals and crafted in small batches to ensure its quality and flavour are never compromised. Their organic botanicals are foraged from locations such as Sichuan, Yunnan, Xinjiang and Gansu, contributing to a truly unique Chinese craft gin. The ingredients tell a story of the beauty and diversity of China and its unique natural flora. Double distilled and vapor infused in a copper alembic still, each organic ingredient is captured at its purest and freshest form.

A time-worthy process, a gold medal winning recipe, eleven botanicals foraged and fused. Peddlers is meticulously crafted in small batches to ensure quality and flavor are never compromised.




Premium Shanghai gin brand Peddlers is the distillation of the minds of Joseph Judd, Ryan McLeod and Fergus Woodward. These three friends share a combined skillset that covers branding, marketing, advertising, finance, law, sales, distribution and f&b – and a mission to showcase the creativity and innovation they've experienced in China. They offer unique ingredients that have been used in Chinese cuisine for thousands of years, but no one had combined them in a gin before, so they thought it would be a good way to showcase these regions of China to a more discerning and adventurous type of drinker.

Peddlers is double distilled in a 500-litre copper still. First, the liquid and most of the ingredients are put in the still to macerate for 24 hours, then distilled. On the second distillation, the East Asian mint and Buddha's hand are vapour infused, to capture the fragrances of these delicate ingredients. The spirit is then bottled and labelled on site, with each batch producing 250 bottles.

"Shanghai is iconic as a merchants' hub – people came from all over China to sell different goods like spices, flowers, nuts, antiques and so on. Peddling means to sell a different product and new idea, which is exactly what we're doing," says Judd.


| | |
| --- | --- |
| Producer | Peddlers Gin Co |
| Style | Shanghai Craft Gin |
| Volume | 70cl |
| ABV | 45.7% |