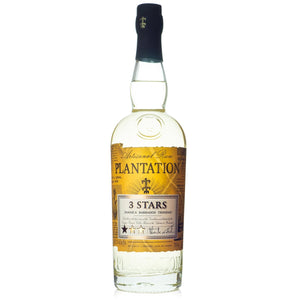 Tasting Notes for Plantation 3 Stars White Rum
Nose: Delicate scents of brown sugar, honey, coffee bean; later whiffs following further aeration encounter baking spices: vanilla, and cloves.
Taste: Entry is biscuity, yet is bittersweet and light-bodied. Midpalate features round, supple flavors of dark chocolate, root beer, egg cream. Finishes fast, refined. Serious white rum at its grassy, herbal best.
Plantation 3 Stars is a tribute to the historic rums produced in the Caribbean, with a suave blend of the region's three primary terroirs: Barbados, Jamaica and Trinidad.

While Barbados delivers richness and a balanced palate, Trinidad adds finesse and Jamaica provides an emphatic structure.

A great rum for Daiquiris.

The plantation brand of rums is owned by Maison Ferrand, one of the world's premier boutique producers of fine spirits, and the architect of the an historical spirits movement. The company was founded by Alexandre Gabriel in 1989 with a mission to preserve age-old, craft production methods that capture the true expression of the spirit, and a commitment to revisit the classics while advancing innovation.

The adventure began with Ferrand Cognac, a 100% Grande Champagne Cognac with roots in the region stretching back over four centuries and ten generations. In 1996, Alexandre created Citadelle Gin, the Gin de France, spearheading the movement for French gins. Due to strict regulations imposed by Cognac's appellation d'origine controlee (AOC), Alexandre Gabriel was obligated to stop using his cognac stills for seven months of the year. After five long years of negotiations, he obtained the AOC authorization to distill gin during the period that the stills were usually dormant, giving the traditional copper pot stills new life and purpose.

Alexandre then introduced Plantation Rum in 1999, reflecting his passion for old rum-making techniques and implementing the signature double ageing process that distinguishes these spirits. After several years ageing in Bourbon casks in the tropics, Plantation Rum is then shipped on boats to Château de Bonbonnet in France, where the second maturation process takes place in Ferrand French oak casks, emhancing the rum with delicate tannic undertones.

In March 2017, Maison Ferrand acquired the West Indies Rum Distillery in Barbados and one-third of the renowned, which owns Clarendon, Long Pond and Inswood distilleries. Thanks to these exceptional production tools, Alexandre Gabriel fulfilled his vision of creating amazing rums through an ongoing experimentation process that pairs modern techniques with the ancestral methods of making fine rums.

Since 1989, surrounded by an enthusiastic team, Alexandre has dedicated himself to the mission of creating superb spirits that express the marriage of passion, terroir and the passage of time.
Maison Ferrand has offices and production premises at the 18th century Château de Bonbonnet in Ars, in France's legendary Cognac region. Marketing and finance services are based in Paris. Consumers around the globe appreciate the company's fine spirits brands, which are distributed in more than 89 countries in some of the world's most prestigious outlets.

| | |
| --- | --- |
| Producer | Unnamed distilleries in Barbados, Jamaica and Trinidad. |
| Style | White Rum |
| Age | Blend of Barbados unaged, Trinidad 2-3 year old, Jamaica unaged, and a touch of Jamaica 10 year old |
| Volume | 70CL |
| ABV | 41.2% |