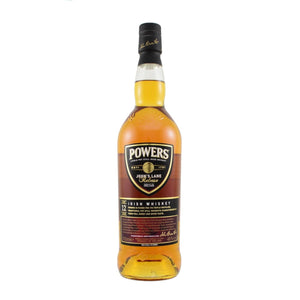 Tasting Notes
Nose: Earthy aromas, leather, tobacco with layers of charred wood, dark chocolate and mocha overtones.
Taste: At full strength it is surprising soft and smooth. Crisp and mouthwatering with a spice laden palate, a touch of bittersweet fruit, marmalade and toffee apples. When reduced with water it is more citrusy on the nose with some estery, fruit aromas being released. More fruit again on the palate with a soft and velvety texture and those citrus characters dominating.
Finish: Lingering honey sweetness on toasted oak.
A single pot still whiskey that celebrate's the original home of Powers whiskey and tries to replicate the original recipe, this is a glimpse of the original style that made Powers famous. A single pot still incarnation of Powers whisky, named for the now-defunct old Powers distillery which was situated in John's Lane in Dublin. This is a very classy whiskey made using a combination of bourbon and oloroso-sherry-cask-matured spirit and aged for a minimum of 12 years.

Jim Murray's Whisky Bible: 96.5 Points (2018)

Irish Whiskey Awards: Best Irish Single Pot Still 2017

Jim Murray's Whisky Bible: Liquid Gold Award 2014

Jim Murray's Whisky Bible: Best Irish Whiskey 2012

World Whiskies Awards: Best Irish Irish Single Pot Still 2012

James Power established the John's Lane Distillery in Dublin in 1791, with his son joining the business around 1800. In 1817 John Power took over the company and the whiskey has been known as John Power and Son ever since. In 1866 Powers became one of the first distillers in the world to start bottling their own whiskey, with each bottle adorned by a gold label of authenticity which is where the name comes from for the most popular variety.Originally a Single Pot Still whiskey (in common with most old Irish Whiskey brands), it was changed to a blend in the 1960's. In 1975 John Powers and Son whiskey became the last of the big Dublin distillers to move out of the city, to Midleton in Co Cork, where it continues to be made to this day. A whiskey with a great history, it was once the top selling whiskey in Ireland and in parts of the country it still outsells Jameson.

| | |
| --- | --- |
| Producer | Irish Distillers |
| Style | Single Pot Still |
| Age | A minimum of 12 years |
| Volume | 70CL |
| ABV | 46% |