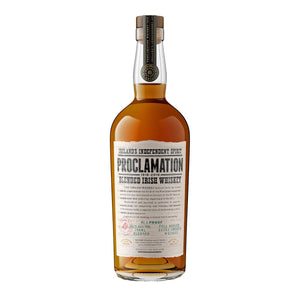 Tasting Notes For Proclamation Irish Whiskey
Aroma: FIRST TO BE REVEALED is ripe Williams pear, followed by an abundance of apricot and creme brulée notes. Slowly developing through to rich custard, freshly brewed cappuccino and ending with woody notes.
Taste: FRONT LOADED NOTES of toasted brioche, freshly baked pastry and overtones of macerated yellow fruits. Fusions of tannins on the mid-palate with a robust yet rounded finish.
Finish: OVERWHELMINGLY SMOOTH and creamy with a mellow finish, with hints of toasted cereal.
Proclamation Whiskey celebrates the birth of the Proclamation and Ireland's independent spirit. A full-bodied extra smooth whiskey that has been matured in ex-Bourbon casks and has been deftly blended with a touch of sherry finished malt to give it a rounded toasted finish. A triple-distilled whiskey with a distinctive character thanks to the artful blending of casks both rich and elegant interweaving through them mellow cereal tones with gentle tannins. Certainly a blended whiskey that is worth savouring.

Inis Tine Uisce Teoranta was founded by Fritz Hendrick Melle, who runs the company together with his longtime business partner Stefan Hansen. Back in 2016, they got the call from a friend of a friend who had the Grace O'Malley brand and wanted to start a small whiskey project. He asked Fritz and Stefan for help. They were incredibly impressed by Grace O'Malley's story; it suits our times so well. Also, there hasn't been a single whiskey named after a woman – so they wanted to change that.

Irish whiskey in particular is very popular with women. So the question was: Can't they make this big too? Coincidence struck luck - all of our current partners and friends loved the idea of launching an Irish whiskey in honour of Grace O'Malley. They got encouragement, support, know-how and whiskey. Proclamation Irish whiskey was launched as their second whiskey brand in 2020 by. Now, six years after the company was founded, they are one of the large, independent bottlers and export their spirits to over 23 markets.


| | |
| --- | --- |
| Producer | An unnamed distillery for Inis Tine Uisce Teoranta |
| Style | Blended Irish Whiskey |
| Age | No Age Statement |
| Volume | 70CL |
| ABV | 40.7% |