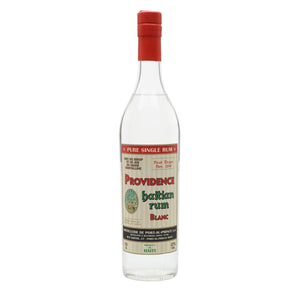 Tasting Notes for Providence Rum - First Drops
Nose: Lively and refined aroma, starting off with notes of sugar cane, orange, and pear, before floral and spicy notes kick in. 
Taste: Cane sugar and the juice of perfectly ripe William's pear flood the palate initially. Mid-palate is floral and fruity (apricot, mango) before sugar cane dominates a creamy (strawberry yoghurt) and mentholated end of the palate.
Finish: Long and silky, with still-warm cane sugar carrying over from the palate, before flavours of vanilla and slightly damp earth bring a softness to the very end of the palate. 
Providence Rum - First Drops is the aptly named first release from Haiti's newest distillery - The Distillerie de Port-au-Prince, which has been operating in the Haitian capital since 2018. The project is a result of collaboration between the Barbancourt-Linge family (descendants of the famous Barbancourt rum dynasty) and La Maison & Velier – obviously big things are expected given the names behind the distillery.

The distillery's first bottling is called First Drops, a white rum produced from cane syrup and fresh cane juice, which are distilled separately in a steam heated pot still, before the spirits are blended and distilled together a second time. Only the organically grown succulent Cristalline variety of sugar cane is used, which is sourced from Michel Sajous in the north of Port-au-Prince. Providence Rum - First Drops is unaged and is bottled at a tasty 57% abv.

Distillerie de Port-au-Prince is one of Haiti's newest distilleries (and also one of its last sadly) which opened in 2018. The distillery is a collaboration between La Maison & Velier (a joint venture between France's La Maison du Whisky and Italy's Velier), and the Barbancourt-Linge family—direct descendants of Labbé Barbancourt, who with his brother Dupré established Haiti's legendary Barbancourt rum distillery in 1862. (The brothers went in separate directions in 1870, and Dupré's descendants still run the Barbancourt distillery today.)

The first run at the new distillery took place in early 2019, overseen by master distiller Herbert Barbancourt-Linge Jr. Made using organically grown Cristalline sugarcane, the rum is produced by separately fermenting fresh sugarcane juice and sugarcane syrup, then distilling them separately on a pot still, before blending the spirits and distilling them together a second time. This "First Drops" debut was produced in November 2019 and bottled at 57 percent ABV (114 proof).

| | |
| --- | --- |
| Producer | Distillerie de Port-au-Prince |
| Style | Pure Single Rum |
| Age | Unaged |
| Volume | 70CL |
| ABV | 57% |