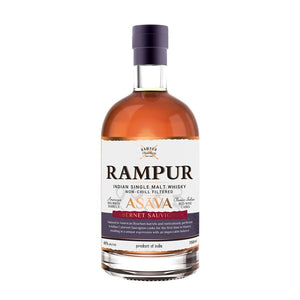 Tasting Notes for Rampur Asava Indian Single Malt Whisky
Nose: Typical tropical fruity note of Rampur with added notes of apricot, blackberry & plum followed with a faint hint of tobacco and spices.
Taste: Velvety, manuka honey sweetness highlighted by spicy oak, vanilla and balanced with dryness from Indian red wine.
Finish: The Indian trail lingers with a medium finish.
Rampur whisky is aged at the foot of the Himalaya Mountains, in Northern India where they say 1 year of aging in their climate is the equivalent to 3 years in Europe. For this edition, Rampur have used a combination of ex-bourbon and ex-Indian Cabernet Sauvignon casks – a world first apparently. Bottled at 45% and non-chill filtered, expect some exotic and unique Indian flavours.

Rampur Whisky is made by Radico Khaitan, which today stands tall amongst the key players in the huge Indian Spirits industry as the countries 4th largest spirits company. It started life as the Rampur Distillery which was established in 1943 before changing the name to Radico Khaitan in the 1970s, and for most of its life, Radico Khaitan supplied bulk alcohol to other liquor companies for blending. It was only in 1999 that it started producing and distributing products in its own name with brands such as 8pm and After Dark, for the huge domestic Indian whisky market. In 2016 Rampur whisky was launched as the premium brand mainly for export, and Radico Khaitan have put their 75 years of distilling experience to good use.

Rampur Single Malt Whisky uses quality 6 row Indian barley grown in the Himalayas, and an extended fermentation of up to 55 hours before double distillation in traditional copper pot stills. The Himalayan climate swings wildly from 1C in the winter to 46C in the summer, something which the distillery claims speeds up the maturation process. For this reason, it's unlikely we will see age statement whiskies from Rampur as leaving the whisky in casks for 10 years with such a climate will likely result in an over-oaked whisky. Overall, we're more than happy with the non-age statement releases so far.

| | |
| --- | --- |
| Producer | Radico Khaitan at the Rampur Distillery |
| Style | Indian Single Malt Whisky |
| Age | No Age Statement |
| Volume | 70CL |
| ABV | 45% |