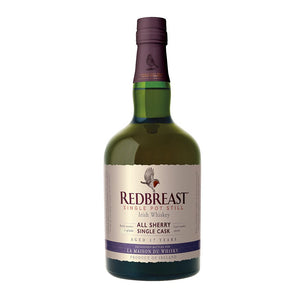 Tasting Notes for Redbreast 17 Year Old All Sherry Single Cask - Limited Edition
Nose: The very complex nose can be broken down into five aromatic sequences. 1st sequence: juicy orange, toasted walnut, emery cloth. 2nd sequence: star anise, black pepper, incense, beeswax. 3rd sequence: clove, cane, cumin, mustard, curry. 4th sequence: mango, Cayenne pepper, apricot and apricot stone. 5th sequence: thuja, cedar, flambéed banana, hyacinth, lily. Note that the increase in power is gradual and could not be more harmonious.
Taste: Dense, lively. With rare concentration, the attack goes back over the entire fruity palette of the nose, including the apricot stone. Gradually, notes of vanilla, coconut milk and maple syrup bring lots of creaminess and freshness. On the mid-palate, grains of malted and unmalted barley that rival each other in intensity provide the very definition of a single pot still. Therefore very Irish, the palate becomes increasingly pastry-scented (financier, lemon cake) and herbaceous (lime blossom, rosemary). Following this, the end of the palate boasts impressive lyricism.
Finish: Long, slender. From compote fruits (pear, plum) to red fruits (strawberry, raspberry) and notes of salted butter caramel to flavours of bouquet garni, the start of the finish guides the tasting to notes of tobacco, coffee and gianduja. Both creamy (flan) and tangy (lime), the very end of the palate loses none of this concentration. On the retro-nasal olfaction, exotic fruits (mango, guava, persimmon) are covered in black peppercorn and almond milk. The empty glass allows a glimpse of jute bags open and overflowing with spices (pink peppercorn, star anise, cumin, nutmeg).
Single Irish pot still whiskey made from 50% malted barley and 50% unmalted barley by Midleton - Irelands most celebrated distillery. This truly exceptional limited edition 17-year-old all sherry single cask, bottled at cask strength of 59.5%, it combines steadfast youth and freshness with a complexity and fullness that borders on wisdom. It is superb proof that sherry cask ageing works beautifully with Ireland's most iconic single pot still, Redbreast.

Profile: The particularly complex aromatic palette is juicy (orange), delicately woody (emery cloth), spicy (star anise, clove), empyreumatic (incense, beeswax) and floral (lily). This increase in power could not be more harmonious. The lively attack goes back over the entire fruity register of the nose, adding coconut milk and maple syrup. On the mid-palate, grains of malted and unmalted barley wonderfully embody the concept of an Irish single pot still. The slender finish is characterized by red fruits (strawberry, raspberry) and salted butter caramel. On the retro-nasal olfaction, exotic fruits (guava, persimmon, mango) enrich the floral diversity of this superb Irish whiskey.

Redbreast whiskey harkens back to the days of the whiskey bonders, who used to buy whiskey by the cask and bottle it themselves. The particular whiskey bonder involved with Redbreast was W & A Gilby, started in 1857, and they bought whiskey from most Irish distillers, marketing it under their own brand of "Gilbey's Castle Whiskey". By 1887 they were marketing John Jameson pure and unblended Irish whiskey and by the turn of the century Gilbey's whiskey brands included Castle Grand JJ Six Years Old and Castle Liqueur JJ Ten Years Old (JJ standing for John Jameson). In 1904 John Jameson & Son's Castle "JJ Liqueur" Whiskey 12 Years Old was being sold and was similar in shape, bearing the red and white label seen on Redbreast bottlings up until the 1960s.

The first official reference to the brand name 'Redbreast' appears in August 1912, when Gilbeys were selling "Redbreast" J.J. Liqueur Whiskey 12 Years Old, described as one of their "famous" brands. The name 'Redbreast' itself refers to the bird, Robin Redbreast, and is attributed to the then Chairman of Gilbey's, who was an avid bird-fancier. Gilby's continued to sell Redbreast in this fashion until 1968 when the bonder trade was phased out. Gilby's made a special request to be allowed to sell Redbreast in small quantities in the 70's and 80's, with the last bottling under Gilby's occurring in 1985. The brand was subsequently bought by Irish distillers and was re-introduced as a 12 year old Pure Irish pot still whiskey initially, with other expressions since added, including this phenomenal 12 year old. Redbreast has been so well received that it is now one of the worlds most sought after whiskeys with some expressions such as Redbreast Dreamcask selling out in seconds and selling for huge sums on the secondary market.

| | |
| --- | --- |
| Producer | Midleton Distillery, Co.Cork. |
| Style | Single Pot Still All Sherry Single Cask |
| Age | 17 Years |
| Volume | 70CL |
| ABV | 59.5% |