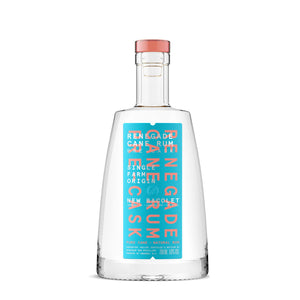 Tasting Notes for Renegade Single Farm Origin Rum: New Bacolet
Nose: The cane notes are subtle and give way to the expression of some notes of ripe fruit.
Taste: Balance between the salinity of the aromas and a second aromatic palette guided by bitterness and black olive.
Finish: Fresh and subtle.
Renegade Rum is the latest project from all round spirits hero, Mark Reynier. Not content with founding ground-breaking Scotch and Irish Whisky distilleries with Bruicladdich and Waterford, Mark has now turned his hand to rum. The ethos will be familiar to anyone who has followed his other projects, namely a huge focus on the primary ingredient – sugar cane in this case, and how different varieties and growing conditions produce different flavours. This concept of terroir is well known in the wine industry, and when applied to spirits the impact is no less.

Each bottle of Single Farm Origin Renegade rum features one type of sugar cane, grown in a single location, with the location used as the name for the bottling. Check out the cane code on each bottle for a wealth of information about where and how the rum was made, including rich photography, maps, see harvest information, view distillation details, and discover the land on which the cane was grown.

A south-facing, steep-sided, sun-baked bowl, the amphitheatre of New Bacolet is planted with drought-tolerant cane on the weathered upper slopes, whilst lush growth enjoys the deeper, rich colluvial soils below: a textbook exploration of terroir & more rugged than nearby Old Bacolet. For this rum the sucrose-rich variety called Lacalome Red was harvested from the "Goat Hill" field, which stands on the terroir known as Upper Combe. The sugar cane juice was then distilled in Renegade's Forsyths' Pot Still alembic.

Renegade Pre-Cask bottlings are the perfect way to experience these terroir driven, cane focused rums.


Located near Pearl, on the northeastern side of Windward Island of Grenada, the new Renegade Distillery is the latest project of Mark Reynier and is the new frontier of Rum, being technologically advanced and environmentally friendly. Designed to produce up to 1 million liters of spirits annually, it will be one of the Caribbean's most significant rum distilleries.

Drawing on expertise from both Scotch and Irish distilleries, Renegade Rum Distillery brings together talent and equipment from all corners of the globe. It has been designed by the best brains in the industry to be both beautifully simple, inspirationally modern and environmentally sound. While the science of distillation is over a thousand years old here the latest thinking includes cutting-edge still technology, propagating thier own proprietary yeast, generating their own electricity and utilising a radical waste water system.

This Windward Island off the South American coast features a rich and diverse set of ideal conditions for the Renegade Rum project, where the hilly and volcanic terrain offers a wide range of altitudes, soils and microclimates ideal for terroir cane cultivation of superior quality. Despite the geographical perfection of Grenada for cultivating and highlighting the diversity of flavours which can be obtained from sugar cane, the cane growing tradition had been all but abandoned on the island. It is for this reason that Renegade set up their own agricultural company, CaneCo, in 2015, and since then seven varieties have been reintroduce island-wide, adapted to the various soils, altitudes and microclimates.

Provenance, and its validating accompaniment 'traceability', are essential to distilling a terroir-driven rum. Huge logistics are required to guarantee total integrity of each parcel, to keep it separate from field to barrel, so the distillery has been designed and calibrated precisely for this purpose. It enables us to discover the island's character, to capture the essence of Grenada in spirit.

Natural in colour as in texture, unsweetened and unchillfiltered. Though many may try, there are no short cuts to distilling the best. And the best distillate demands a cask policy of unparalleled quality and complexity. Each one in Renegade's library of terroir-derived component rums, some of which have been shared in Pre-Cask form, and then matured on site to breathe the salt-laden trade winds, is worthy of a stand-alone bottling in its on right. Indeed, these will be shared as studies, Études. But together, as The Cuvée, they will create the most profound rum the world has ever seen, or at least that's the plan.


| | |
| --- | --- |
| Producer | Renegade Rum Distillery |
| Style | Sugar Cane Rum |
| Age | Unaged |
| Volume | 70CL |
| ABV | 50% |