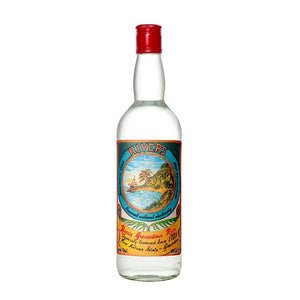 Tasting Notes for Rivers Royale Grenadian Rum
Nose: Pungent fruity nose with sweet strawberry-like aromas and freshly baked tart-ta-tan. With the addition of water, moist carrot-cake (the western one) like aromas emerge with cinnamon and chocolate powder.
Taste: At 69% abv, initially it is almost overpowering, but stick with it and you'll notice sweet and grassy flavours with bursts of orange peel. The locals drink it neat and it is surprisingly smooth.
Finish: Roasted nutty finish with vanilla and chilli chocolate spice.
Established in 1785 and tucked into the north-east coast of the island, River Antoine Estate is Grenada's oldest distillery. After being harvested manually, the sugar canes are then milled in a water mill. The cane juice produced is then gently heated in five metal pots. This is then fermented outdoors in cement vats over 6 to 10 days. Direct-fired distillation can then begin in two 600-gallon John Dore double retort pot stills.

The 600 bottles produced every day are finally bottled and labelled by hand. With rare depth of expression, this pure cane juice rum pays witness to an age-old history that is particularly respectful of nature. As the local saying puts it so well, don't say rum, say Rivers.

River Antoine Estate is a distillery located in Grenada, in the Caribbean. It was established in 1785 and is the last distillery to operate entirely without electric power. The workforce is exclusively local, 80 employees operate the distillery and around 100 families depend on the overall activity of the plantation.

The sugar cane is cultivated organically. The distillery is fed by a water mill, a wheel 6 meters in diameter with a slow speed of 15 rpm. Three cane trailers are milled per day for some 3,000 liters of pure cane juice. A workman's wagon transports the piled-up bagasse, which will be used later as natural fertilizer and mulch in the fields but also to supply the boiler room of the distillery. The latest, dating from 1785, is still in use.

The cane juice is slightly heated in 5 metal pots by the flames of an oven fed with bagasse. It then rests for two days before being transferred to huge cement tanks: 9 tanks of 11,000 liters, of which only 6 are partially used. Fermentation takes place in the open and lasts 6 to 8 days.

River Antoine has two double-twisted pot-stills signed John Dore with a capacity of over 2,000 liters, in place since the 1980s. Over time, they have been patched up: the first John Dore still is equipped with twists made by Vendome, while the second is a John Dore-Forsyth-Vendome triptych. They are heated over direct heat and the temperature carefully controlled according to the quantity and the very essence of the wood burned. On leaving the still, the distillate is transferred by gravity into an underground concrete cistern before being put into plastic barrels where the rum will be reduced to its bottling level.



| | |
| --- | --- |
| Producer | River Antoine Estate Distillery, Grenada |
| Style | Unaged Cask Strength Rum |
| Age | No age statement |
| Volume | 70CL |
| ABV | 69% |