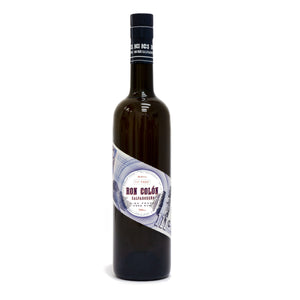 Tasting Notes for Ron Colón Salvadoreño Dark Aged Rum
Nose: Exotic fruits from banana to pineapple over a rich note of marzipan, walnut bread, and wood spices. 
Taste: Full-bodied and rich, building on the aromas with more tropical fruits, a nice chocolatey note, roasted almonds, and vanilla.
Finish: The finish is long and smooth for such a high ABV.
Overall: We admit we don't know a lot about El Salvador, but now that we have tried Ron Colón we want to know a whole lot more! This really is a beautiful rum and perfect for both sipping and mixing. 
Ron Colón Salvadoreño Dark Aged Rum is a blend of rums comprised of 70% six year-old column-stilled rum produced by the Licorera Cihuatán Distillery in El Salvador, 15% Jamaican pot-stilled three year-old, and 15% un-aged pot stilled. By combining column-distilled and pot-distilled rums, the overall flavour offers contrasting characteristics that interact to create something quite special. The Salvadoran rum is a fruit-forward delicate style with a light, dry finish. The addition of Jamaican pot-distilled rums brings and earthiness and warm funk to the liquid. The blend is then bottled at 55.5%, strong enough to retain the incredible flavour, but not so strong that it overpowers, basically perfect.

Ron Colón is named after the old currency of El Salvador, which itself was named after Christopher Columbus, and was used until 2001. There's even a coin in the bottle cap which you can pop off and keep after the bottle is finished, another nice little touch.

San Francisco World Spirits Competition: Gold Medal - 2020

El Salvador is the smallest country in Central America, bordered by Honduras, Guatemala and the Pacific Ocean. Many know El Salvador for its complex political history, which includes a violent civil war from 1980-1992. What most aren't aware of are the magnificent volcanoes, World-class surf spots, and amazing produce - El Salvador produces some of the finest cane sugar and coffee in the world.

Ron colon's story started in 2018 with two befriended colleagues, Thurman Wise and Pepijn Janssens. With a combined experience of over 20 years working in the spirits industry, Wise and Janssens spent their time traveling around the world introducing brands to emerging Markets. In 2018 this job took them on a 22-day, 16-country barhop across Latin America, and it was during this trip that El Salvador ("Sivar" in slang) captured their attention.

A story that started with two, very soon became a Task-team of six. The unique creative talent of Chris Rehberger and his Berlin-based team at double standards managed to visualize the true essence of El Salvador. Andres Trigueros and his family at Jags Heads Coffee gave the team the privilege to collaborate with one of the most dynamic coffee farms in El Salvador, whilst welcoming them into their home and farm, offering a deeper insight Into the family's culture and history. Felicity Gransden Joined to offer her unique talent in flavour innovations, and last but not least, Tobias Jegenstam was brought onto the team to bring his wizz-skills in social media, and so the RCS team was born.

| | |
| --- | --- |
| Producer | Licorera Cihuatán distillery in El Salvador, Worthy Park, Hampden and Monymusk distilleries in Jamaica. |
| Style | (Almost) Cask Strength Spanish style rum |
| Age | • 6-year-old column-distilled Salvadoran rum produced by Licorera Cihuatán distillery. • Unaged pot-distilled Jamaican rum produced by Worthy Park, Hampden and Monymusk distilleries. • 3-year-old Jamaican pot-distilled rum produced by Worthy Park estate. • All rums in the blend are aged at source |
| Volume | 70CL |
| ABV | 55.5% |